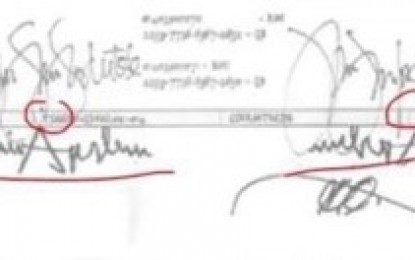 DAVAO CITY -- Radjah Buayan, Maguindanao Mayor Zamzamin Ampatuan on Thursday said one of the signatures on the supposed Tara list, showing alleged remittances to former Davao City vice mayor Paolo Duterte, was his.
The list was made public through a video that was uploaded on YouTube by unidentified sources. The video accuses the Presidential son of involvement in the illegal drug trade.
"Why is my signature there? This was supposed to be list of remittances from Southern Luzon and Southern Visayas drug syndicates," Ampatuan said by phone.
He said the signature was clearly his but he did not sign any Tara list.
"One of the signatures on the list, which connects Paolo and Mans Carpio was mine. My signature was there but I did not sign it. Why am I being dragged into this?" Ampatuan said.
He said he was puzzled why his signature would be appended to such a document.
"They got my signature right but I did not sign it," he added.
In the same document, Ampatuan's signature was also horizontally flipped to make an impression that it was the signature of another person.
Paolo on Wednesday dismissed the video posted on YouTube, titled, "The Real Narcolist Part 1" as an "invention".
In a Facebook post, Paolo, who is also running for the 1st Congressional district seat here, blamed a certain JS for the video, which linked him to the illegal drug trade in Luzon and Visayas as far back as 2010.
"POLO DELTA - PAOLO DUTERTE? WOW ha kung makaimbento ka wagas," he wrote.
He said JS was angry with Agriculture Undersecretary Waldo Carpio because the latter "had blocked all your sugar and rice smuggling."
Carpio is the brother of Presidential son-in-law and Mayor Sara's husband, lawyer Manases Carpio.
Paolo said JS was also angry at him because he had ignored him on a flight once "because you are boastful."
"Ngayon pansinin na kita kasama ng kamay ko na kasing laki ng mukha mo pag nangyari yan. Yan ang totoong balita! Ang Dragon code ko pala ay PD 92112 o yan research ka ulit! PAK YOU MO GINAYA MO PA SI TRILILLING HA! Pag lolo nalang dong sunda imong idol nga si J.P. (Now I'll give you attention with my fist that has the same size as your face. That's the real news! By the way my Dragon code is PD 92112. There, do another research. F*** Y**, you copied (Trillanes) Just pleasure yourself, follow what your idol J.P. did)," he added.
Paolo was not categorical who JS was but Undersecretary Carpio was allegedly instrumental in the seizure of 100 sacks of Thailand rice at the Manila International Container Terminal in June last year, which belonged to a Laguna businessman. (PNA)