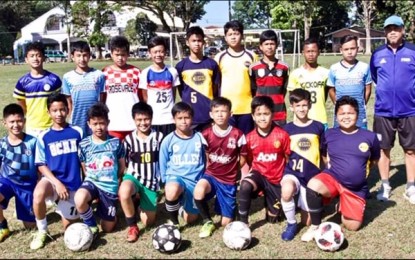 CAGAYAN DE ORO CITY -- Veteran coach Wilbert Racines and his young Region 10 elementary boys football team are ready for the Palarong Pambansa set late this month in Davao City.
The head coach of the Corpus Christi School elementary boys team from Cagayan de Oro City has been preparing for the week-long competition right after the regional meet last December.
He has kept only five of his Cagayan de Oro City Division champion team from Corpus Christi School and collected the best elementary booters from the region to form a formidable team for the Palaro.
They have been training at the Camp Philips football grounds in Manolo Fortich town, Bukidnon with the Our Lady of Lourdes Elementary School as their host.
He has included five players from Rosevale School, and other players from Pagatpat Elementary School, Bukidnon Faith School, Our Lady of Lourdes Elementary School, Manolo Fortich, Bukidnon, Gingoog City Colleges and Sapang Dalaga Central School in Misamis Occidental.
"It is quite difficult to prepare the team. The players come from all over the region but we are already 80 percent ready for the games," Racines said.
He added that they have been playing against strong and older teams and he is satisfied with the results.
They have also recently joined the Del Monte Cup and won the Boys 13 title.
Leading the team is Francis Iverson Sambaan from Pagatpat Elementary School and Rawin Gementiza of Rosevale School. Both players are veterans of the Vigan Palaro last year where Region 10 under coach Mario Sumampong finished fourth.
Gementiza, the starting goalkeeper of the team, was also the second goalkeeper in the 2017 Palaro in Antique. It will be his third Palaro stint this year. Sambaan is a prolific goalscorer and will lead the attack for the Region 10 boys with fellow Vigan Palaro veteran Jrand Hortelano of Corpus Christi School.
But the main player to watch is midfielder Donn Ebuña, also of Corpus Christi School. Ebuña missed the Vigan Palaro last year but has led his school in the Cagayan de Oro Division meet and CdO in the Regional meet in Tangub City this school year.
Defenders Armand Noel Lugod of Rosevale School and Kinsey Drew 'Kid' Yañez also of CCS are the other two holdovers from last year's team who are expected to start.
Racines is also under pressure to duplicate or surpass the fourth place finish of the Region 10 team performance of Coach Mario Sumampong last year in Vigan, Ilocos Sur – the same team also went home with the Fair Play Award.
Completing the line-up are Von Iris Quinito, Ethan Jay Vistan, and Kenny Guion of Rosevale School, Karsten Yañez and Matt Columna of Corpus Christi School, William Amores of Bukidnon Faith School, Miguel Awayan of Gingoog City Colleges, Julius Centro of Sapang Dalaga Central School of Misamis Occidental, Ethamas Facturanan of Our Lady of Lourdes Elementary School, and Brad Aguiman also of Gingoog City.
The team will leave for Davao on April 21. The Palaro will be held from April 27 to May 4. (PNA)