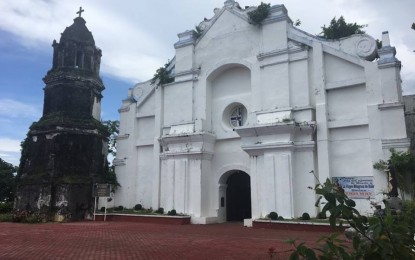 LAOAG CITY — A benefit concert featuring the Philippine Madrigal singers will kick-off the annual La Virgen Milagrosa Festival of Ilocos Norte next month.
Set on April 27, the concert is organized by the Ilocos Norte government, Diocese of Laoag and the Minor Basilica of Badoc as a way of promoting the newly-declared Minor Basilica to pilgrims.
Provincial tourism officer Aianree Raquel said on Monday the La Virgen Milagrosa de Badoc Church was proclaimed as a minor basilica last February and they expect more visitors to visit the place this Holy Week.
"There had been an increasing number of tourists visiting Badoc since the proclamation of La Virgen Milagrosa de Badoc. Based on our projection, we hope to reach around 100,000 church visitors in Badoc this summer," he added.
Built in the 17th century, the Badoc church is among the 11 Filipino-Hispanic Baroque churches in Ilocos Norte and became a parish church in 1714.
Since 1620, the church has housed the miraculous image of La Virgen Milagrosa de Badoc, which devotees flocked to throughout the centuries.
Badoc residents take pride of their hometown for becoming the center of Marian devotion in this northern Philippines town.
A regular church goer, Elisa Tolentino, believes people flock to the miraculous church of Badoc to seek healing or just to pay homage to the Blessed Virgin Mary.
"The exposed centuries-old bricks on the exterior of the church contrast the updated interior but that adds charm to the character of Virgen Milagrosa Church. It's a very beautiful church," she said.
In Ilocos Norte, the celebration of La Virgen Milagrosa Festival since the start of the administration of Governor Ma. Imelda Josefa "Imee" Marcos, becomes more fun and colorful as years go by, with Ilocanos sharing their rich culture and tradition to tourists and visitors.
Aside from the free benefit concert, other interesting activities are being finalized for the comeback of the Himala sa Buhangin Arts and Music Festival, an added attraction of the month-long provincial fiesta in May. (PNA)