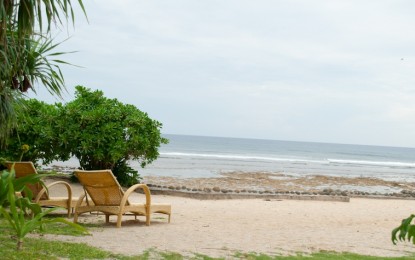 TACLOBAN CITY -- A local government official in Eastern Samar is eyeing to quadruple the province's share of the regional tourist arrivals in the next three years.
With 22 towns and one city, Eastern Samar's PHP841 million income from tourism is very small compared to what other provinces get from this industry, Giporlos, Eastern Samar Mayor Mark Biong said Wednesday.
"It's high time to have a share equal to what we have in the province. Our islands are so pristine and clean. We have destinations comparable to popular sites in the Philippines," Biong told reporters.
The three-term mayor, who is seeking a seat in the provincial board, vowed to push for tourism development in the province. He admitted, however, that during his term as mayor of Giporlos town, he was not inclined about tourism promotion since there are more beautiful places in other towns of Eastern Samar.
Citing data from the Department of Tourism, the region had a share of 5.19 percent of all tourists that visited the region in 2017. The share went down to 4.49 percent in 2018, Biong said. The target is to raise the tourism arrival share of the province to 20 percent by 2022.
In 2017, Eastern Visayas welcomed 1.46 million visitors. It estimated that 1.75 million tourists arrived in the region in 2018.
"We need better infrastructure, more aggressive promotion, and new investments to attain tourism gains. Likewise, we have to make sure that tourism activities are sustainable and locals really benefit from it," Biong added.
Among the destinations in Eastern Samar province are Calicoan Island in Guiuan town, Yolanda beach in Salcedo, Amandaraga Falls in Lawaan, Dangkalan Pacific Beach in Taft, nature parks in Hernani and Balangkayan towns, and the Balangiga Bells.
The most popular site is Calicoan Island, a destination known for surfing. It has white sand beaches with rocky bottoms. In the middle of the island are six lagoons ringed by forest, the largest being 30 hectares in size. At the cliffside margin of the island's forests are dozens of caves.
Eastern Samar occupies the eastern portion of Samar Island, the country's third largest island. Bordering the province to the north is the province of Northern Samar and to the west is Samar province. To the east lies the Philippine Sea, part of the vast Pacific Ocean, while to the south lies the Leyte Gulf.
The province has a poverty incidence of 46.9 percent, one of the highest in the country. Its population is 467,160 as of 2015. (PNA)