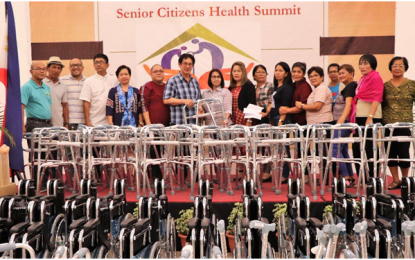 SAN MATEO, Rizal -- The Department of Health (DOH) has proposed several programs, including the establishment of a senior citizens' "house" in every municipality where they can proceed for their regular checkup, take their medicines and enjoy recreational activities.
"We will also introduce traditional and alternative healthcare for senior citizens to enhance their well-being and to prevent and to cure their illness," said Dr. Eduardo Janairo, regional health director for Calabarzon.
Janairo made the assurance during the two-day DOH Calabarzon "Senior Citizen's Health Summit", which gathered representatives from associations, federations, societies and groups of senior citizens from various cities and municipalities in the region from April 11 to 12 at Ciudad Christhia 9 Waves Resort in Barangay Ampid in this town.
He clarified that the "house" differs from a foster home which offers stay-in arrangements, but rather a special health and recreational hub dedicated for senior citizens, offering health delivery services and recreational activities.
During the event, the DOH also distributed some 160 assistive devices comprised of 40 wheelchairs, 40 canes, 40 walkers and 40 crutches for needy senior citizens, who are wheelchair-bound and those having difficulty in walking and standing, across the provinces of Cavite, Laguna, Batangas, Rizal and Quezon.
"Napakahalaga ang mga assistive devices na ito sa ating mga senior citizens kaya dapat lang na maibigay ito ng direkta sa mga talagang nangangailangan (the assistive devices are very important to our senior citizens prompting our office to give these directly to those who really need them)," Janairo said.
The summit aimed to address the health needs and concerns of the elderlies, especially in aiding their mobility, checking on their geriatric health conditions, overcoming walking difficulties and in looking into their welfare despite their age.
"It is important that they should observe a healthy lifestyle, exercise or any other physical activity to move their bodies to sustain their strength and avoid any disease," Janairo advised.
He also reminded senior citizens to drink plenty of water, eat vegetables, and fruits as vitamins strengthen their immune system.
Around 110 senior citizens received free medical checkups, including urinalysis, blood screening, body mass index screening, eye checkup, and maintenance medicines for those with hypertension and diabetes during the summit. (PNA)