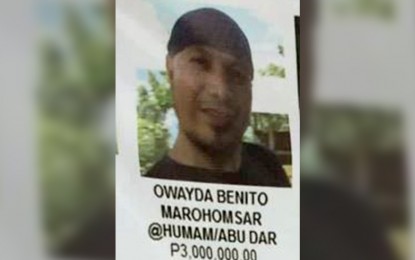 MANILA -- The confirmed death of Maute Group leader Owaydah Marohombsar alias "Abu Dar" is another milestone in the government's campaign to eliminate terrorism in the country.
"Your Armed Forces of the Philippines (AFP), together with the Philippine National Police (PNP) and the concerned local residents of the areas affected by the terror group Maute-ISIS have gained another milestone in the eventual eradication of the ISIS footprint through Maute in this part of the country," said Col. Noel Detoyato, military public affairs office chief, in a text message.
"With the help and cooperation of our foreign counterparts against terrorists, our initiative is gaining speed and traction in our fight to put a stop to our local terror groups from expanding or from gaining foothold," he added.
Defense Secretary Delfin Lorenzana, in a message to reporters Sunday, said that with Maute Group now leaderless, they are now monitoring the possible replacement of the slain terrorist.
"Well for now, his group is leaderless. We are now monitoring who will replace (Abu) 'Dar'," he added.
"Abu Dar" was one of the four terrorists killed in an encounter with troops of the 49th Infantry Battalion last March 14 in Tubaran, Lanao Del Sur.
Authorities requested the US to subject the then-unidentified body to DNA testing when informants initially identified it as that of the terror leader. He was believed to be the only terrorist leader who escaped when government forces retook Marawi City in October 2017.
"Abu Dar" is regarded as the successor of Isnilon Hapilon, the emir of ISIS in Southeast Asia who was also killed in Marawi along with the Maute brothers.
Also seized from the encounter site were an M-16 rifle, an M-653 rifle, .45-caliber pistol, two grenades, several magazines and ammunition, and cellphones.
On the other hand, four soldiers were killed and two were wounded in the clash. "Abu Dar" is said to be responsible for bombing the Limketkai commercial area in Cagayan de Oro City in 2013 where several persons were killed.
He was also responsible for killing several soldiers, policemen, and Christians in Marawi City and Lanao del Sur. (PNA)