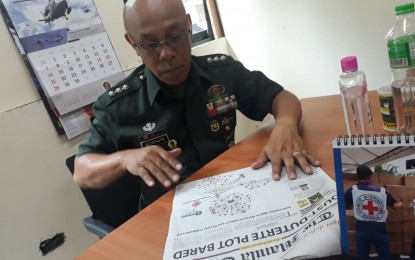 MANILA -- Destabilization plots against President Rodrigo Duterte will not prosper, the Armed Forces of the Philippines (AFP) said Monday.
"Every time we have a new president, there is always that possibility to have him/her removed. But for now, we do not see any specific threat. There are those coming up with information but there is no specific threat," AFP public affairs office chief, Col. Noel Detoyato, said in an interview with reporters.
Detoyato was reacting to reports claiming that some groups are planning to oust the Chief Executive.
He added that he does not see this threat materializing as the AFP and the Philippine National Police (PNP) are "very strong".
"We don't see those threats to materialize because we have a very strong AFP, we have a very strong PNP, and very strong ang support na nakikita namin (that we see) coming from the Filipinos sa ating (for this) administration. So there may be some individuals who are thinking of ousting the President but it will never materialize," he added.
Detoyato's remarks were echoed by AFP spokesperson, Marine Brig Gen. Edgard Arevalo.
No specific threats
"We see no specific threats to date that are likely to succeed to oust the President and Commander-in-Chief. But notwithstanding the AFP's focus combat, intelligence, and civil military operations and various government development projects, there remains individuals and groups that are determined and are engaged in orchestrated efforts to oust the present administration," Arevalo said in a statement.
He added that these actions tend to vilify the President and discredit government through fake news, bogus information, made up data and reports intended to arouse, agitate, mobilize the people to take up arms against the government or support those who are already rebelling against it.
"As it was found out by the team that went to Europe, a grim scenario of human rights abuse and extra-judicial killings were painted before the international community. Again, the objective is to discredit the present dispensation and obtain funding non-government organizations abroad to finance the continuing local communist armed conflict in the Philippines. While the CPP-NPA (Communist Party of the Philippines-New People's Army) cannot succeed doing that, they definitely can scare away investors and attempt to cripple the economy," he added.
Possibility
Meanwhile, the PNP is looking into the possibility that the video circulating on social media linking President Rodrigo R. Duterte's former aide and senatorial bet Christopher "Bong" Go and three members of the Duterte family are benefiting from the illegal drugs is part of a supposed destabilization plot against the Duterte administration.
"Well as of this time we don't have specific evidence on that. There is a possibility. It's because the tirades are very personal, it is directly aimed at the President and his administration so there is a possibility. We are not discounting the fact that there is a destabilization plot and these are all being investigated. We are determining who is behind these," PNP chief, Gen. Oscar Albayalde told reporters when sought for comment during Monday's press briefing.
Albayalde said those people behind the videos should present evidence before the courts if they want to prove that Go, former Davao City Vice Mayor and presidential son Paolo Duterte, Go, and Davao City Mayor Sara Duterte's husband, Mans Carpio, are involved in drug transactions.
In four sets of videos, a man, who identified himself as 'Bikoy,' tagged Paolo, President Duterte's partner Honeylet Avanceña, Carpio and Go as among those who take a multi-million drug payola.
"I'm sure it is not only Bikoy. There is somebody working behind him because what Bikoy says is all scripted. I am sure there is somebody financing this. I'm just not sure how big is the financial support," said Albayalde.
Albayalde said the PNP will conduct an investigation to unmask those behind the four viral videos and expects the PNP's Anti-Cybercrime Group to lead the probe.
"Based on the latest feedback coming from the ACG, they are yet to establish Bikoy's identity because he is using a false account. As of this time, they are still determining who really is Bikoy and who is behind all these demolition job videos on YouTube," he stressed.
The PNP chief, however, clarified that he did not receive any instructions from the President regarding the video, but said that they will investigate the videos and find the people behind it.
Albayalde said Bikoy and other persons behind the videos could be held liable for cyber libel.
"These are just accusations posted on the internet that could be the basis of a cybercrime charge. We have the anti-cybercrime law. You cannot just simply say some libelous [statements] to people," the PNP chief said.
Albayalde said any person can make a video and upload it to social media, and make heavy accusations against anyone.
"Anybody can do anything or say anything in the social media but of course, we have to be responsible citizens especially for those who are throwing accusations," the PNP chief said. "Number two is the timing. This is election period so the timing is indeed highly questionable. For all you know this might be part of propaganda this coming mid-term election." (with reports from Christopher Lloyd Caliwan/PNA)