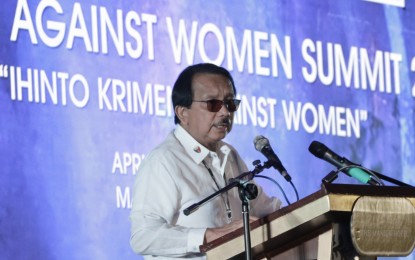 MANILA -- Presidential Anti-Corruption Commission (PACC) Chairman Dante Jimenez on Tuesday urged the public not to vote for politicians with pending corruption cases.
In his speech at the Stop Crimes against Women Summit 2019, which was organized by the Public Attorney's Office (PAO) and the Volunteers Against Crime and Corruption (VACC), Jimenez said these politicians are greedy and have the urge to enrich themselves.
"Huwag mong iboboto yung mga corrupt, 'yung may mga kaso (Don't vote for those corrupt, those with cases). Naka-pending yan sa (It's pending in the) Sandiganbayan," he said.
Jimenez, the founding chair of VACC, said corruption breeds poverty.
"Ang aking opisina po ay naka-focus sa isang halimaw ng ating (My office is focused on dealing with a monster in our) society, ito'y halimaw ng pagnanakaw sa pera ng bayan (This monster of plundering government funds). Corruption breeds poverty," he said.
Jimenez said corrupt politicians can get away with crimes because they have the money to hire top lawyers.
"They can get away with crime, even murder," he said.
Jimenez also cited the role of women and the youth in speaking out against the injustices in society.
"The women of today, ang mga kabataan din (even the youth), ay dapat lumabas na. You have to be outspoken. You have to be heard. We must continue to speak out against harassment, violence in our homes workplaces, in our social circles," he said.
Jimenez said government alone cannot address corruption and injustices.
"It's being addressed, but you see, sabi nga ni Presidente (the President said), we cannot do this alone. It's the people, lalo na mga kababaihan (especially the women)," he said.
Department of the Interior and Local Government Undersecretary Martin Diño and PAO chief Persida Acosta also graced the event. (PNA)