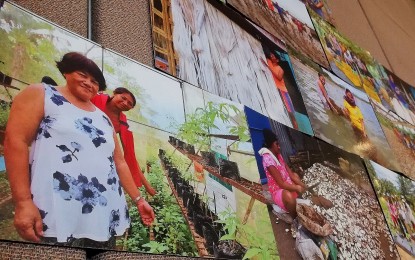 MANILA-- What started as a goal to create employment and help the people affected by Typhoon Yolanda (international name Haiyan) to start a new life has now become a written achievement in the Canada-funded Typhoon Haiyan Reconstruction Assistance (THRA) program.
"What we experienced after Yolanda was unimaginable. But through the years, we've managed to recover and now we can say we are more prepared for future disasters," said Yolanda Colbe, a cassava farmer from Carigara, Leyte, citing the assistance and skills she acquired from the THRA.
The Canadian government, through CARE Philippines, an international humanitarian organization focused on strengthening livelihood and disaster preparedness, launched the four-year THRA project in 2016.
It was able to support 449 community associations through technical assistance, provision of tools and equipment for their enterprises, trainings, financial literacy, values formation, and good agricultural practices.
Of these communities, about 153,206 producers and entrepreneurs were produced, 57 percent of whom are women.
Colbe, one of the THRA beneficiaries, said before Haiyan, they only produced cassava for household consumption.
Equipped with knowledge on the elements of good and climate-resilient farming, Colbe said they have now maximized their agricultural lands for commercial purposes.
"After participating in CARE's livelihood project, we learned that cassava has a market in our province and there's a big company buying processed cassava," she said.
Colbe's story is common to the many individuals affected by the typhoon, said to be the one of the worst natural catastrophes of all time.
In an interview Wednesday, Ambassador John Holmes tagged it as a successful project, as it draws to its official end of implementation in June.
"It's definitely a successful project. We're learning here. What we focus on is not only helping Filipinos get back on their feet, we also developed mechanisms which will contribute to the long-term viability of the individual products they produce," Holmes said.
The envoy believes the project has effectively enabled both women and men to work together, "how men could help in increasing the income of the family."
More than 14 million people were affected by Haiyan, with thousands of fatalities recorded. Witnessing its aftermath, international aid poured in, including those from the Canadian government.
Holmes said the THRA project worth around 6 million Canadian dollars is only one part of its continuing development assistance to help the Yolanda victims in the Philippines.
"In the aftermath of Haiyan, Canada put out a call to Canadians to contribute to the relief efforts," he shared. "Canadians were generous, they provided 85 million Canadian dollars, we developed the number of projects, four major ones at that to provide immediate relief in the areas affected by the typhoon and a four to five-year projects to help with the redevelopment of the devastated areas." (PNA)