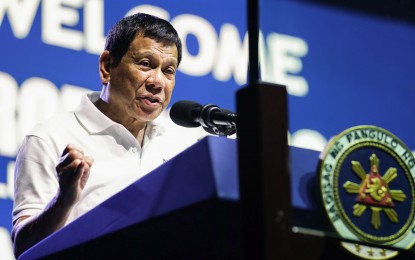 MANILA -- Malacañang on Thursday said that the Duterte administration's demand for Canada to take back tons of garbage, which were dumped in the Philippines back in 2013 is "non-negotiable."
The Canadian Embassy earlier reiterated Canada's commitment to retrieve the trash but did not give any time frame when this would start.
Panelo described Canada's response as "quick but vague" noting that it was not an appropriate response to the strong statement made by President Rodrigo R. Duterte who threatened to ship the trash back if the problem is not addressed.
"We take note that its response is not appropriate to the strong statement we made against its throwing its garbage to our land," Panelo said in a statement.
"Our stand against its making our country a garbage bin of their waste is non-negotiable. It cannot dilly dally on its getting them back. It must retrieve them pronto or we throw them back to its shores," he added.
Panelo, meanwhile, warned that the failure of Canada to retrieve its trash could harm its current bilateral relations with the Philippines.
"The 70 years of diplomatic relations between the two countries will be put to naught if Canada will not act with dispatch and finality the resolution of this undiplomatic episode to which we take outrage," Panelo said.
"That it even considered performing such outlandish disposal of its garbage to an ally is dangerously disruptive of our bilateral relations," he added.
Panelo said no amount of discussion could resolve what he described as Canada's "offensive act" to turn the Philippines into a dumpsite.
"Its offensive act cannot be countenanced and any further discussion on the matter is unwelcome and unnecessary," Panelo said.
"Not only has it not taken any decisive action on this arrant hostile demeanor, it has not likewise expressed regrets thereto," he added.
Earlier, Canadian Ambassador John Holmes vowed to resolve the trash issue but noted that there are "legal and other issues" that needed to be resolved first.
"Our Prime Minister (Justin Trudeau) committed and has recommitted to resolving this issue, including taking the waste back to Canada," Holmes said, noting Canada can only do it in partnership of the government of the Philippines.
Before flying to Beijing to attend the 2nd Belt and Road Forum, Duterte threatened to set sail to Canada and dump the garbage back there.
"I want a boat prepared. I'll give a warning to Canada maybe next week that they better pull that thing out or I will set sail, doon sa Canada ibuhos ko 'yang basura nila doon (in Canada and dump the trash there)," Duterte said in a situation briefing in San Fernando, Pampanga on April 23.
Duterte even asked Canada to prepare for "a grand reception" to welcome their trash back home. (PNA)