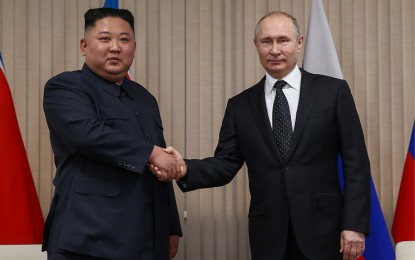 VLADIVOSTOK, Russia -- Russian President Vladimir Putin and the top leader of the Democratic People's Republic of Korea (DPRK), Kim Jong Un, started their first meeting at Russia's Far Eastern Federal University on Russky Island here on Thursday.
In his opening remarks, Putin expressed confidence that Kim's visit will help resolve the situation on the Korean Peninsula, adding that Moscow welcomes the DPRK's efforts to develop inter-Korean dialogue and to normalize its relations with the United States.
Echoing Putin's remarks, Kim expressed hope that the meeting will contribute to the development of Russia-DRPK relations and facilitate the settlement of the Korean Peninsula issue.
The two leaders are expected to discuss a wide range of topics including the Korean Peninsula nuclear issue, security in Northeast Asia and bilateral ties.
Kim arrived here on Wednesday. (Xinhua)