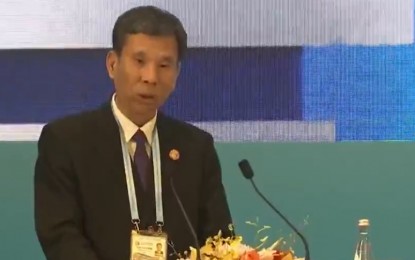 BEIJING -- Chinese Finance Minister Liu Kun announced Thursday that a debt sustainability framework for projects under the Belt and Road Initiative (BRI) will be launched, dispelling the debt-trap concern for Beijing-backed infrastructure projects.
During a thematic forum on financial connectivity under the Belt and Road Forum (BRF) for International Cooperation here, Liu said it is important for BRI participating countries to adopt stable and sustainable financing arrangement.
"Stable and sustainable financing arrangement is a long-term task of BRI. The Ministry of Finance of China will continuously work with the finance ministers of related parties and financial institutions to promote a high-quality and high-standard sustainable financing system," Liu said.
"We will build a debt sustainability framework to prevent and resolve the risk. To deliver the development objective of BRI, we must balance the access to development finance with debt sustainability," he added.
The top Chinese finance official noted that Beijing will also be working closely with the World Bank and International Monetary Fund (IMF).
"We will encourage all parties to follow international standards, meet the actual needs of developing countries, comply with the market rules, and enforce the principle of high quality, high standard, affordability, and sustainability into the BRI financing practice," Liu added.
In the same forum, IMF Managing Director Christine Lagarde has welcomed this announcement from the Chinese government.
Lagarde also mentioned that financial connectivity plays a vital role in implementing infrastructure projects, which is the focus of BRI.
She said in order to achieve greater financial connectivity, capital mobility and financial inclusion must be boosted.
"Greater openness to capital flows can also bring down the cost of finance, improve the efficiency of the financial sector, and allow capital to support productive investments and new jobs," Lagarde said.
She added that increased financial inclusion will also make the BRI become more effective. More women and rural citizens must have access to financial services, the IMF executive noted.
"Our modern financial landscape reveals the enormous potential of better connections between nations and between financial institutions across borders. These financial connections can lead to new construction, new jobs, new opportunities, and, ultimately, the ability to achieve economic security," Lagarde concluded. (PNA)