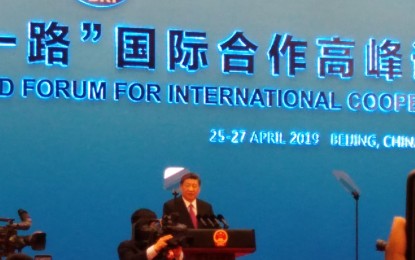 BEIJING – Chinese President Xi Jinping said the second Belt and Road Forum for International Cooperation (BRF) is more substantive and has produced more results.
Xi made the statement during his press conference on Saturday at the Yanqi Lake Convention Center here.
"This year's Belt and Road Forum, the second China has hosted, is larger and more substantive than the first one, attracting more countries, and producing more results," Xi said.
He said 38 heads of states attended the BRF Leaders' Roundtable and were joined by chiefs of the United Nations (UN) and the International Monetary Fund (IMF).
The Chinese president said BRI parties have reached 283 deliverables, including inter-governmental cooperation agreements, practical cooperation projects, the initiation of multilateral dialogue and cooperation platform in specific areas, and a release of Belt and Road progress report as well as the report of the BRF Advisory Council.
On the sidelines of the forum, business meetings between Chinese firms and companies from BRI participating countries also took place.
Xi said a total of USD64 billion worth of business-to-business agreements were signed during the three-day BRF.
Xi is also optimistic that the China-led BRI will gain more partner countries and organizations globally.
"This year's forum sends a clear message: More and more friends and partners will join in Belt and Road cooperation," Xi said. "And the cooperation will enjoy higher quality and brighter prospects."
"I noted in many occasions, that while BRI was launched by China, its opportunities and outcomes are shared by the world," he noted.
The second BRF concluded Saturday, with leaders issuing a joint communiqué highlighting the following: strengthening development policy synergy, boosting infrastructure connectivity, promoting sustainable development, strengthening practical cooperation, and advancing people-to-people exchanges.
President Rodrigo Dutere attended the forum, along with leaders from Azerbaijan, Belarus, Brunei Darussalam, Chile, Cyprus, Czech Republic, Djibouti, Egypt, Kazakhstan, Kenya, Kyrgyzstan, Laos, Mongolia, Mozambique, Nepal, Portugal, Russia, Serbia, Switzerland, Tajikistan, and Uzbekistan.
Prime ministers and vice presidents of United Arab Emirates, Austria, Cambodia, Ethiopia, Greece, Hungary, Italy, Malaysia, Myanmar, Pakistan, Papua New Guinea, Singapore, Thailand, Vietnam, and Indonesia also attended the meeting.
UN Secretary-General Antonio Guterres and IMF Managing Director Christine Lagarde joined the world leaders during the BRF meeting. (PNA)