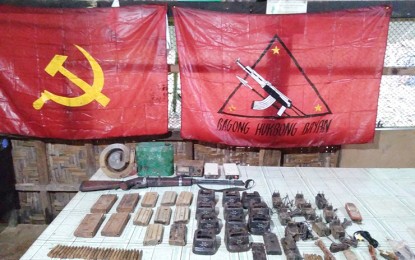 MANILA -- Netizens expressed support to the petition before the Commisison on Elections (Comelec) to cancel the registration of party-list groups identified with the Communist Party of the Philippines - New People's Army (CPP-NPA).
In the comments section of Philippine News Agency's (PNA) Facebook account, a number of netizens said now is the time for the Comelec to take action against party-list groups creating more and unnecessary issues instead of helping the government better address the nation's problems.
Netizen Ysay Baroro commented that NPA-linked party-list groups "have no right to hold a position in the government because all they bring are troubles".
Meanwhile, Antonio del Castillo Jr., in his comment, said Comelec must have done the registration cancellation of such party-list groups a long time ago.
"Madaming dahilan 'yan kung bakit hindi maaksyunan noon ng Comelec. Takot sila sa pagbabanta o nakikinabang sila o may kaibigan sila sa mga partylist na 'yan. Dapat nga hindi na ulit pinapatakbo yung mga panay rally, gaya ng Gabriela, Anakbayan, (There are many reasons why the Comelec is unable to act on the issue. They're scared of threats, or they benefit from it, or they have friends from those partylists. Those who perform rallies shouldn't be allowed to run again like the Gabriela, Anakbayan,) etc.," he added.
Rebecca Labadnoy said NPA-related party-list groups help bring down the country's growth.
"Panahon na para di na sila makagulo sa gobyerno, paano uunlad ang bansa kung palagi na lang rally nang rally na wala namang naitutulong sa katahimikan ng bansa (It's now time that the don't interfere with the government, rallying doesn't help in achieving nationwide peace and development), she said.
On the other hand, Max Lebrando commented that there are more government agencies which help citizens in need.
"I think partylist is a waste of people's tax and most of these partylists in position moslty are against the government. Paano tayo uunlad kung lahat ng projects eh may nasasabi kayo. Puro pa kayo rally, hindi ba pwede gawan ng (How are we going to progress if you criticize every [government] project. All you do is to stage rallies, can't you make a) solution rather than just make noise and mess on the streets? And you're a nuisance to traffic flow)," he added.
On Friday, Angela Aguilar, secretary general of Kababaihang Maralita, a non-government organization, filed a petition before the Comelec against Makabayang Koalisyon ng Mamamayan (MAKABAYAN), Bayan Muna, Anakpawis, Kabataan, Alliance of Concerned Teachers (ACT), General Assembly Binding Women for Reforms, Integrity, Equality, Leadership, and Action (GABRIELA), with senatorial aspirant Neri Colmenares as the lone individual respondent.
Aguilar, in her petition docekted as SPP 19-006, said that she has personal knowledge that MAKABAYAN party-list groups and Colmenares are connected with the NPA, being a former CPP "kadre" and ACT member.
She cited the Comelec's motu propio powers under the Republic Act 7941 or Party-List System Act's Section 6, Paragraphs 2 and 5 as reference.
The Party-list System Act, which was passed in 1995, allows the Comelec to cancel the registration of any group, which among others, "advocates violence or unlawful means to seek its goal" and "violates or fails to comply with laws, rules or regulations relating to elections."
She also noted that the campaign materials of senatorial aspirant Neri Colmenares and his cohorts were "placed outside of authorized common poster areas in public places, or in private properties, without the consent of the owner." (PNA)