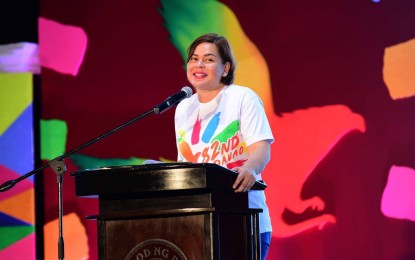 MANILA -- Malacañang on Monday said it respects the opposition of Presidential daughter and Davao City Mayor Sara Duterte to the proposed shift to a federal system of government.
"Well, every one of us has her or his own ideas on how to solve certain problems. Mayor Sara has her own concept. We respect that," Presidential Spokesperson Salvador Panelo said in a Palace briefing.
"We welcome all other contrapositions. Let the people decide," he added.
In an interview last week, Mayor Sara warned that federalism may "worsen" the situation in some areas in Mindanao since it could empower local warlords.
Federalism is among the main advocacies and campaign promises of the mayor's father, President Rodrigo Duterte.
Panelo said the executive branch has always been open to all anti-federalism stands, expressing confidence that it will not affect the Duterte administration's push for federalism.
He also emphasized that it will be the framers of the Constitution and the Filipino people to decide through voting in a plebiscite.
"Sino ba ang magde-decide niyan kundi ang (Who will decide on this are) framers of the Constitution?" Panelo said.
"Di naman si (It's not) Mayor Sara or President Duterte. It's still the framers of the Constitution that will decide and ultimately the people of the Philippines," he added.
Panelo said despite the President's push for federalism, Filipinos may still reject federalism during the plebiscite.
"Pilipino pa rin ang magde-decide niyan. Kung ma-reject ang buong draft, e di wala rin (Filipinos will still be the one to decide. If the whole draft is rejected, then there's nothing we can do about it)," Panelo said.
Earlier, Panelo said there is still much time left for the Congress to tackle charter change and federalism before the President steps down in 2022.
Panelo also bared that the President feels that Congress is taking "too long" to amend or revise the 1987 Constitution.
Since he assumed office in 2016, Duterte has tasked a Consultative Committee (ConCom) composed of justices, ex-legislators, lawyers, academics, among others to draft a federal charter which has been submitted to Malacañang and is now accepting public feedback.
Duterte has also created an Inter-Agency Task Force on Federalism (IATF) which will take charge of "integrating, harmonizing, and coordinating ongoing efforts towards federalism and constitutional reform." (PNA)