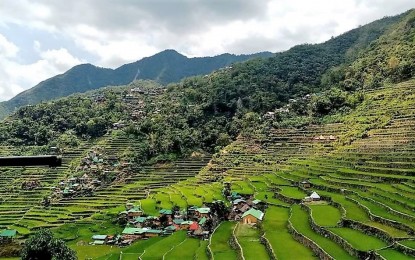 BAGUIO CITY -- The Department of Agriculture's Philippine Rural Development Project (DA PRDP) has approved 18 sub-projects, worth PHP829-million, for Ifugao province to improve the living condition, especially of people in far-flung villages.
"There are approved infrastructure sub-projects worth more than PHP802 million and enterprise sub-projects worth more than PHP27 million," said Ma. Imelda Isabel Zabala, Information, Advocacy, Communication and Education (InfoACE) unit of the PRDP in the Cordillera Administrative Region, on Tuesday.
Based on the list posted on the PRDP website, among the infrastructure projects that have been completed is a PHP1.9 million potable water system project in Banaue benefitting 673 households.
Projects that are ongoing implementation include nine communal irrigation systems that will irrigate 211.59 hectares of riceland worth PHP44.4 million; one farm-to-market road (FMR) with bridge project measuring 11 kilometers worth PHP176 million; and four potable water system project worth PHP9.8 million, all in Banaue.
There are also three projects in Banaue and Mayoyao towns categorized as having an NOL 1 (no objection letter), where the proponent local government is given a notice to proceed with the awarding of the contract to the winning bidder.
There are also three projects in the pipeline worth PHP454 million -- a 600 square meter slope protection project in Asipulo town and two FMR in Lamut and Lagawe with a total length of 37 kilometers.
For the livelihood enterprise project, the restoration and rehabilitation of livelihood projects on swine raising in Hungduan town involving an organization have been completed.
Ongoing projects include the restoration and rehabilitation of cattle fattening and marketing in Lagawe, and the upgrading and expansion of processing and marketing of export quality Ifugao heirloom rice in Banaue.
Zabala said Ifugao, especially the municipality of Banaue, is the top grosser in terms of subproject costs.
Cordillera region has the highest approved total project cost and number two in terms of total number of sub-projects for the whole Luzon A Cluster, composed of the Cordillera, Regions 1, 2, and 3.
Kalinga province is second with PHP796.82 million total cost for eight projects; followed by Benguet's PHP478.87 million involving 30 sub-projects; Mountain Province with PHP348.83 million for 15 sub-projects; Apayao PHP288.02 million for 11 sub-projects and Abra with PHP80.02 million for 16 sub-projects.
The PRDP is a six-year national project under the DA and jointly funded by the World Bank, national government and local government units that aims to establish a "modern and climate-resilient agriculture and fisheries sector".
Projects include FMRs, bridges, slope protection, tramline, communal irrigation systems and potable water system. (PNA)