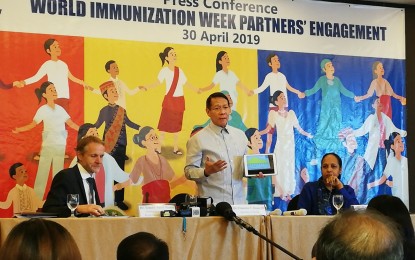 MANILA -- Health Secretary Francisco Duque III said on Tuesday the recent dengue outbreaks in certain regions nationwide are not related to the Dengvaxia issue.
In a press briefing on World Immunization Week in Manila City, Duque said dengue is a phenomenon that peaks every three to five years.
"The cases peak and the last one I think is 2016. I think that was why the push for anti-dengue vaccine was made by the previous administration. This is proceeding from historical data, the epidemiology bureau says, it peaks between 200,000 to 250,000 cases," he said.
Duque added there is still no cure for the disease but a new vaccine is being developed by a global manufacturing pharmaceutical company against the four strains of the dengue virus.
"And so we're awaiting of the results of the clinical trials for this. There are 64, 695 cases until April 19, 2019 compared to 33,813 for the same reporting period in 2018. That's about twice as much as we had last year," he said, noting that prevention through the 4S strategy is still the best intervention for the diseases.
The DOH's 4S strategy includes Search and destroy mosquito-breeding sites; Self-protection measures like wearing long pants and long-sleeved shirts and daily use of mosquito repellent; Seek early consultation; and Support fogging or spraying only in hotspot areas where increase in cases is registered for two consecutive weeks to prevent an impending outbreak. (PNA)