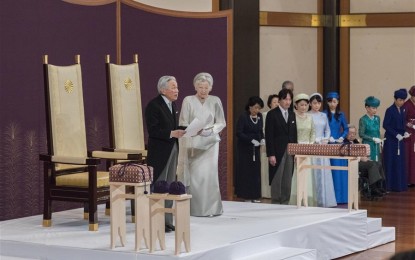 TOKYO -- Japanese people, immersed in a jubilant mood to welcome the beginning of a new era, planned on Tuesday to celebrate Reiwa in various activities, starting on May 1 with the ascent of Crown Prince Naruhito to the throne.
Japanese Emperor Akihito, in his final speech as a monarch on Tuesday, declared his abdication and said he sincerely hoped for a stable future for Japan and peace and happiness around the world.
The Japanese era transition took place midnight Tuesday in an unprecedented 10-day Golden Week holiday, marking the end of the Heisei Era which means "achieving peace" and the start of Reiwa, or "beautiful harmony."
Citizens are keen on attending activities, such as countdown events and fireworks, scheduled to aid the celebratory mood across the country. Meanwhile, police have beefed up security measures around the Imperial Palace and other major spots.
People planned to celebrate the moment of era change in many different ways. Some Japanese couples planned to get married at midnight, and some elementary school children and their parents in the Okayama prefecture planned to experience the name change "midair" by jumping all at once at a gymnasium, according to local media reports.
On social media, the first change of a Japanese era name in three decades has drawn many people's attention. Instagram users uploaded pictures of themselves holding up a board with the two Chinese characters symbolizing the new era, imitating what Chief Cabinet Secretary Yoshihide Suga, nicknamed "Uncle Reiwa" by young people, did when he announced the new era name on April 1.
Many people visited places with names linked to Heisei on Tuesday in a mood mixed with celebration and reminiscence.
A roadside service station in Gifu Prefecture, which is named Heisei, was packed with hundreds of visitors for a whole day since early in the morning. (Xinhua)