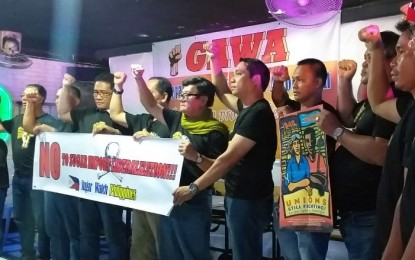 BACOLOD CITY -- The Negros-based General Alliance of Workers Associations (GAWA) on Wednesday declared solidarity for the protection of the sugar industry in observance of Labor Day.
A total of 46 leaders and representatives from various labor groups and unions launched the Sugar Watch Philippines in a forum at Gerald's Restobar here, led by main convenor Wennie Sancho, who also heads the Save the Sugar Industry Movement (Save-SIM); and Hernane Braza, national president of Philippine Agricultural, Commercial and Industrial Workers Union-Trade Union of Congress of the Philippines (Paciwu-TUCP).
"We, the labor convenors of the Sugar Watch Philippines, condemn in the strongest terms the proposed sugar import liberalization because it would obliterate our local sugar industry that would displace thousands of sugar workers and their families," the group said in a declaration of solidarity released to the local media.
They said they "must have the courage and the fortitude to oppose and manifest their dissent against any and all attempts to deregulate the importation of sugar."
"We shall firmly stand up with strength and determination to defend the interests of the sugar workers. This unwavering firmness is the cornerstone of our opposition," the group said.
In a separate Labor Day manifesto, the convenors said they will not waver from voicing their opposition and resisting the sugar import liberalization.
"This is our cry on this commemoration of the International Labor Day, hence, the formation of Sugar Watch Philippines," they added.
The Save-SIM Executive Committee, which will be comprised of labor leaders and agrarian reform beneficiaries organizations and cooperatives, will be the implementing arm of Sugar Watch Philippines.
They will be elected on a national and regional basis in a Sugar Workers Summit to be held on a later date.
"We can hope for a more effective movement, if we are national in scope," Sancho said. (PNA)