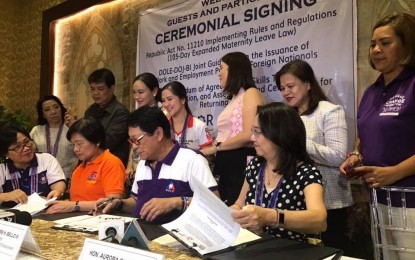 CITY OF SAN FERNANDO, Pampanga — The Implementing Rules and Regulations (IRR) for Republic Act 11210 otherwise known as the Expanded Maternity Leave Law, was signed here on Wednesday.
Labor Secretary Silvestre Bello, together with Civil Service Commission chairperson Alicia dela Rosa-Bala, and Social Security System president Aurora Ignacio, led the ceremonial signing of the IRR during the Labor Day job and business fairs held at the Kingsborough Convention Center here.
The IRR signing will pave the way for the full implementation of the Expanded Maternity Leave Law.
Under the said law, working mothers are given 105 days instead of the previous 60, of paid maternity leave.
Based on the IRR, mothers will also have the option to file for an additional 15 days of unpaid leave.
The maternity benefits will apply to every instance of pregnancy, miscarriage, or emergency termination of pregnancy regardless of frequency.
"The Expanded Maternity Law ensures the health of the lady workers," Bello said, adding that even husbands can benefit from the law.
"The wife who gave birth, if she wants to be with her husband, can pass up to 15 days of her leave so that he could attend to her," he added.
The Expanded Maternity Leave law includes a provision allowing the allocation of seven maternity leave days to fathers, raising the paternity leave to 15 days from the current seven days.
Unwed mothers can also share up to 15 days of leave to a working relative.
Meanwhile, Taguig Rep. Pia Cayetano, one of the principal authors of the expanded maternity bill, who was also present in the event, hailed the signing of IRR for the Expanded Maternity Leave law, saying this would give working mothers more time to recover after giving birth and to take care of their newborn.
"Being a mother is also something that we need to be compensated that is why there is the Expanded Maternity Leave Law," Cayetano said.
Also signed during the event were the joint guidelines by the DOLE, Department of Justice and Bureau of Immigration on the issuance of the work and employment permits to foreign nationals and the memorandum of agreement with Technical Education and Skills Development Authority on the skills assessment and certification for returning overseas Filipino workers. (PNA)