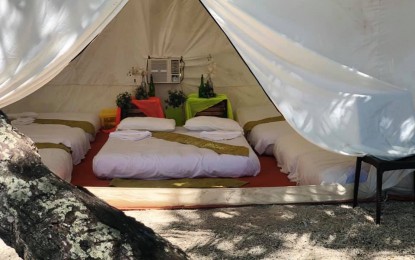 TACLOBAN CITY -- Luxury camping experience is now in the historic town of Limasawa, Southern Leyte to meet the growing demand for accommodation facilities on the island.
With the expected influx of tourists for the 500th year anniversary of the First Mass in 2021, Jadway Go brought to life glamping in the island-town with only four hotels lodging facilities in operation.
"Limasawa Island, with its historicity and natural wonders, is a personal favorite of the outfit. We decided to make it the litmus test for a unique travel experience to include glamorous camping and activities which are curated according to the customers' needs," said Go, Kamp Kolambu owner, in an interview Wednesday.
Go's business is named after Rajah Kolambu, the ruler of Limasawa Island when the fleet of Portuguese navigator Ferdinand Magellan set foot on the island in 1521.
Glamping, is a glamorous way of camping where stunning nature meets modern luxury. Unlike ordinary camping, glamping offers amenities such as comfortable beds, bathroom facilities, and food services.
He added that glamping can also be replicated in other tourist destinations in Eastern Visayas Region "provided that there is an area where they can set-up and have a supply of electricity."
Go said that using the name Kolambu is a way to highlight, this early, the upcoming 500th commemoration of the First Easter Sunday Mass in Asia in Limasawa, an island also known for snorkeling and diving.
"Limasawa has the best night dive spot in the world, amazing daytime snorkeling sites, a 101 percent sea turtle encounter, unlimited fish, very healthy coral reefs, crystal clear hidden lagoons, very safe and comfortable boat, rich heritage, good food, beautiful beaches, so near to the dolphins and whale sharks, pro dive shops and sites, around way to and fro the caves and waterfalls in the mainland, all very equally accessible," Go shared.
Department of Tourism Regional Director Karina Rosa Tiopes says that part of drumbeating the activities in Limasawa is to prepare the island for a large number of guests who will explore the island in 2021.
At present, there are only four accommodation facilities on the island and to expand its number, the tourism department has already trained 42 homeowners to participate in the homestay program.
Tiopes encourages tourists to also try doing camping or glamping since the experience will let them immerse with the local culture, witness nature, and live on it to gain an authentic experience.
Limasawa Island, the smallest town in Southern Leyte province, is touted to be the site of the first Catholic mass in Asia, officiated on Easter Sunday on March 31, 1521 by Father Pedro de Valderrama under the fleet of Ferdinand Magellan. (PNA)