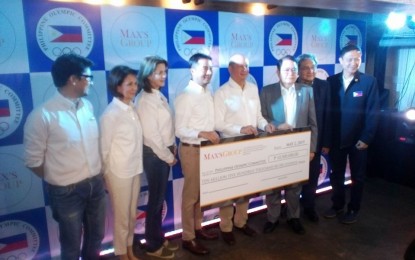 MANILA -- The Max's Group Inc. (MGI) pledged its support to the Philippine Olympic Committee (POC) in the Filipino athletes' quest to get that elusive Olympic gold.
In a special ceremony on Thursday at Max's Kabisera in Taguig, the restaurant group behind Max's Fried Chicken and Pancake House and the Philippine arms of Yellow Cab and Krispy Kreme gave PHP10.5 million investment to the POC.
"With our partnership with MGI for Tokyo 2020, we will be able to ground a new wave of Filipino pride for the world to see," POC president Ricky Vargas said.
On how the pledge was made, MGI president and CEO Robert Trota said, "We've structured our pledge so that we address what we call the three F's: flagbearers, families, and fans."
The investment, which includes a PHP3 million incentive for a gold medalist, will be allocated for the training of the athletes.
The athletes' families will also get some benefits from the Max's Group while they are in training.
"They don't have to worry about their welfare while they train for and compete in the Olympics," Trota continued.
Also, the fans will get a chance to cheer for their athletes as three lucky fans can win a pair of tickets each to Tokyo to watch the games live in an upcoming raffle.
The Philippines has yet to win Olympic gold medal since it joined the world's biggest and most prestigious sports meet in 1924 in Paris.
The country, however, had so far won 10 Olympic medals, including three silvers courtesy of boxers Anthony Villanueva 1964 Tokyo edition and Mansueto 'Onyok' Velasco in 1996 Atlanta meet and weightlifter Hidilyn Diaz in 2016 Rio de Janeiro Games.
The Filipino bronze medalists, on the other hand, were swimmer Teofilo Yldefonso (1928 and 1932), high jumper Simeon Toribio (1932), boxer Jose Villanueva (1932), Miguel White in 400m hurdles (1936), boxer Leopoldo Serantes (1988), and boxer Roel Velasco (1992). (PNA)