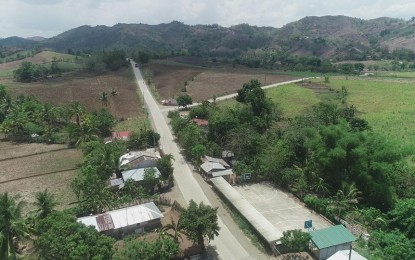 ILOILO CITY -- A total of 19,187 residents from Iloilo's component city of Passi will benefit from the newly-inaugurated Imbang Grande-Tagubong-Gemumua Agahon-Agtabo farm-to-market road, the biggest Philippine Rural Development Project (PRDP)-funded road project in the Visayas.
Iloilo Governor Arthur Defensor Sr. inaugurated the 28-kilometer road project, which covers 12,635 hectares of road influence, on Tuesday.
Defensor said the road project will benefit 4, 080 households from the villages of Imbang Grande, Talongonan, Jaguimitan, Salngan, Alimono, Magdungao, Tagubong, Agtabo, Dalicanan, and Gemumua Agahon.
The governor shared that he did not reach Gemumua Agahon village when he attempted to visit the place in 2013.
"We were not able to reach the village because of the worst situation of the road," he said in his speech, adding that the Gemumua Agahon was the only village he failed to reach as a public servant because of the poor road network.
The road in the Gemumua Agahon and neighboring villages, therefore, had been the priority of Defensor to receive the PRDP project when Remelyn Recoter, Department of Agriculture Western Visayas (DA-6) approached him.
The road project eventually started in 2015, he said.
Defensor said the province contributed PHP32 million to the PHP272 million total cost of the project. The large chunk of the fund is sourced from the World Bank loan of PHP206 million.
The government shared PHP25 million while the Local Government Unit of Passi City pitched in PHP8 million.
Passi City Vice Mayor Bonifacio Barbero, meanwhile, said the road project received positive feedback from the locals.
"When the road was not yet rehabilitated, residents had to wake up at 2 to 3 in the morning to catch the only jeepney that travels to the city," he said.
The improved road network will also cut short the travelling time of residents from two hours to 30 minutes and can therefore be helpful especially in times of emergency, he added.
He expressed his gratitude to Defensor as the improved Imbang-Gemumua Agahon road will help the residents in bringing agriculture products to town.
Aside from the residents, the improved road will also benefit the jeepney and tricycle drivers in the area.
Tricycle driver Joel Casagan, 28, said the new road will minimize the cost of vehicle maintenance "as the poor road before often damages tricycles and jeepneys."
"We thought that there is no hope for our road to be fixed, but we are thankful that the government did not forget this part of our city," he said in an interview.
The new road will also increase the frequency of tricycle trips from one to five, providing the drivers with additional income.
Meanwhile, Recoter said the remaining challenge for now is the maintenance of the Imbang-Gumumua Agahon road. She suggested village officials to form an ordinance implementing load and speed limits to vehicles.
Recoter said the same had also been suggested to rest of the PRDP-funded projects in the province. (PNA)