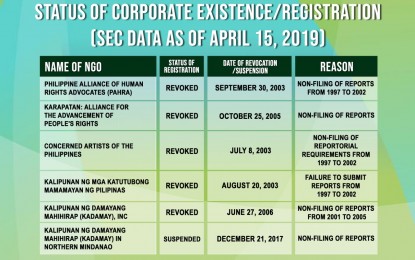 MANILA – Many non-government organizations (NGOs) may be visibly active in pursuit of their advocacies but nothing does the public know that some of them are not allowed to perform NGO activities because of revoked registration with the Securities and Exchange Commission (SEC).
Data from the SEC dated April 15, 2019, showed the corporate existence and registration of five NGOs, have long been ordered revoked more than 10 years ago for non-filing of reports while another NGO's registration is suspended since 2017 for the same reason.
A letter from Gerardo F. del Rosario, Director of SEC's Company Registration and Monitoring Department, to Secretary Hermogenes Esperon, Jr., National Security Adviser and Vice Chairperson of the National Task Force to End Local Communist Armed Conflict (NTF-ELCAC), named the following six NGOs, whose activities are reportedly supportive and sympathetic to the Communist Party of the Philippines and its armed wing, New People's Army (CPP-NPA):
Philippine Alliance of Human Rights Advocates (PAHRA), whose registration was ordered revoked on September 30, 2003, for non-filing of reports from 1997 to 2002;
Karapatan (full name KARAPATAN: Alliance for the Advancement of People's Rights) with revoked registration since October 25, 2005;
Concerned Artists of the Philippines, whose registration had been revoked on July 8, 2003, for non-filing of reportorial requirements from 1997 to 2002;
Kalipunan ng mga Katutubong Mamamayan ng Pilipinas, with registration, ordered revoked on August 20, 2003, for non-filing of reports from 1997 to 2002;
Kalipunan ng Damayang Mahihirap (Kadamay), Inc., whose registration was revoked on June 27, 2006, for failure to submit reports from 2001 to 2005; and
Kalipunan ng Damayang Mahihirap (Kadamay) in Northern Mindanao, with registration suspended on December 21, 2017.
Meanwhile, a certification was also issued by the same SEC department, signed by Assistant Director Daniel P. Gabuyo, that shows the non-registration as a corporation or partnership of the League of Filipino Students (LFS), Suara Bangsamoro, ANAKPAWIS, Kilusang Mayo Uno (KMU), New Patriotic Alliance, and May First Movement Labor Center, all alleged legal front organizations of the CPP-NPA.
NGO activities prohibited
According to SEC Commissioner, lawyer Kelvin Lester Lee, if an NGO's registration has been revoked, SEC follows Section 139 of the Revised Corporation Code (RCC), which states that: "SEC. 139. Corporate Liquidation. – Every corporation whose charter expires pursuant to its articles of incorporation, is annulled by forfeiture, or whose corporate existence is terminated in any other manner, shall nevertheless remain as a body corporate for three (3) years after the effective date of dissolution, for the purpose of: prosecuting and defending suits by or against it; and enabling it to settle and close its affairs, dispose of and convey its property, and distribute its assets, but not for the purpose of continuing the business for which it was established."
"At any time during said three (3) years, the corporation is authorized and empowered to convey all of its property to trustees for the benefit of stockholders, members, creditors, and other persons in interest. After any such conveyance by the corporation of its property in trust for the benefit of its stockholders, members, creditors and others in interest, all interest which the corporation had in the property terminates, the legal interest vests in the trustees, and the beneficial interest in the stockholders, members, creditors or other persons-in-interest," it added.
"An NGO whose registration is revoked, merely exists as an NGO but it cannot perform its activities as an NGO," Lee said.
He added that if an NGO is not registered with the SEC, the said NGO is not imbued with juridical personality since no Certificate of Incorporation was issued by the SEC.
A juridical person is defined as a legal entity, not a natural person, created by the law such as a corporation with a distinct identity, and legal rights and obligations.
"Hence, it is a corporation by estoppel under Section 20 of the Revised Corporation Code. It cannot open bank accounts, enter into contracts and raise public funds," Lee added.
SEC is an agency within the Department of Finance of the Philippine Government responsible for regulating the securities industry in the country. (PNA)