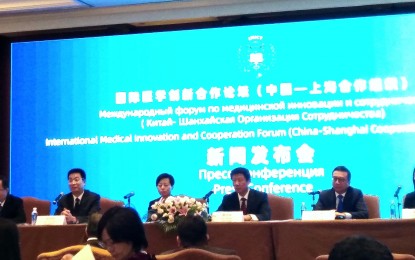 BEIJING – China seeks more cooperation with various countries in the field of medicine, as it will hold the International Medical Innovation and Cooperation Forum in the city of Fangchenggang in the country's southwestern Guangxi region on May 26-29.
In a press conference here Friday, Fangchenggang Mayor Ban Zhongbai said the forum targets to strengthen collaboration among Shanghai Cooperation Organization (SCO) member-states regarding medical policies, technologies, trade, as well as training and education.
The SCO countries include China, Kazakhstan, Kyrgyzstan, Russia, Tajikistan, Uzbekistan, India, and Pakistan, but the forum also expects medical experts from non-SCO states like the Philippines and other countries in Southeast Asia.
Ban said the forum will also discuss cooperation among medical professionals.
In a press conference during the Two Sessions early this year, Minister of Commerce Zhong Shan said there is a lack of talents in the health care sector in China.
The increasing number of elderly populations with 8.5 million people being added annually, there is a gap of about two million talents in the field of medicine, Zhong noted.
He mentioned that there is a surplus in labor in the countryside. However, it is difficult for them to move to cities where the cost of living is high.
"From local government perspective, we really seek educational training in medicine," Ban said in Chinese.
"What we do is we are training and educating local talents, and we encourage our local talents to go outside China to learn," he added.
Ban noted that the forum will also serve as a platform to attract foreign medical practitioners to work in China, particularly in Fangchenggang.
"We also have invited many high-level experts and professionals in this area. So, in terms of talents, the government is providing platform and policies to attract good quality and specialized professionals to come to Fangchenggang and work in Fangchenggang," the city's top official said.
"In the meantime, we are also thinking that whether we can establish some medical institutions, especially educational institutions that can produce more talents. In Fangchenggang, we have research center of SCO. So, this innovation center can be a platform, and based on this platform, you can attract more medical talents to come to work," he added.
Ban said Fangchenggang is open to all countries in exploring ways to boost cooperation in the health care sector, particularly in improving the number of medical practitioners in the city. (PNA)