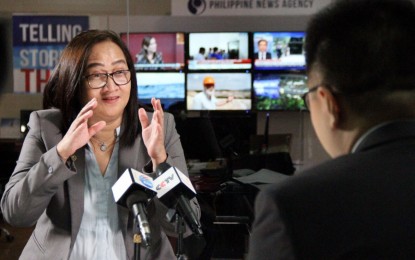 BEIJING, China – With more than a thousand ethnic groups in Asia, News and Information Bureau (NIB) Director Virginia Arcilla-Agtay on Thursday underscored the need to bridge the gaps and break boundaries among Asian nations towards a united and prosperous region.
Arcilla-Agtay, also managing director of the NIB's Philippine News Agency under the Presidential Communications Operations Office, made this call in her speech during a sub-forum entitled "Sharing Experience on Asian Governance" of the ongoing 2019 Conference on Dialogue on Asian Civilizations (CDAC) here.
"Our Asia is a geographically expansive and populous region characterized by fascinating social and cultural variation. Particularly striking to the outside observer is the region's ethnic and religious diversity. Majority of the countries in this region are home to more than a thousand ethnic groups, even more than the number of 48 Asian countries," Arcilla-Agtay said in her speech.
Asia, she added, is also home of the world's oldest civilizations and the birthplace of many religions including Buddhism, Christianity, Confucianism, Hinduism, Islam, and Taoism.
"Much more significant than the physical differences between Asia's peoples are the cultural differences -- the way we live, our habits and customs, the religions we believe in, our values, our languages, the way we think," Arcilla-Agtay said.
"Given this tremendous diversity is the task at our hands to unify ourselves as one Asian people towards a harmonious co-existence, sharing and learning, and building of a shared future," she added.
Arcilla-Agtay, a veteran journalist before joining public service in 2016, said communication/media plays a major role in linking Asian countries that are thousands of miles apart.
"Communication fosters understanding in building relationships between previously unrelated social systems or as a tool to modify existing relationships between our people," she said.
"When communication and public relations are viewed as tools for creating and maintaining relationships internationally, our nations emerge as a truly communicatively constructed system," she added.
The forum, which was one of the three sub-forums hosted by the Publicity Department of the Central Committee of the Communist Party of China and organized by China International Publishing Group, was attended by more or less 232 participants composed of senior government officials, representatives of international organizations, think tank leaders, experts, and scholars, representatives from the press and business community from 48 countries. The three sub-forums were part of the 2019 CDAC that runs from May 15 to 22.
"Your presence in such impressive numbers speaks of the relevance of the objective of this forum. It stands as a testimony to the high hopes and expectations that we all have," she said.
She urged fellow journalists and communicators to make use of multi-media platforms in "bridging communities, bridging nations, bridging civilizations".
"Unlike in previous times when information transmission takes a long time to reach end users, current media trends and technology make available real time information just about anything from different parts of the globe," she said. (PNA)