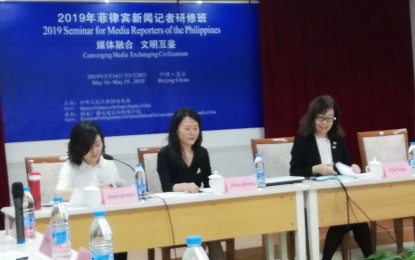 BEIJING – Filipino journalists and government media workers from various attached agencies of the Presidential Communications Operations Office (PCOO) on Friday participated in the training-seminar here on ways the Philippines' and China's radio, television and online industry can better collaborate and learn from each other's best experiences and practices.
During the opening ceremony, Zhou Jihong, deputy director of the National Radio and Television Administration (NRTA), a ministry-level department under China's State Council, said the activity serves as a platform for China and the Philippines to exchange and share their respective development experience in the broadcast industry.
"I'm positive that you'll gain friendship and perspectives and push forward exchanges and shared development in R&T (radio and television) sector during this three-week seminar and visiting events," Zhou said in her welcome remarks.
Zhou cited greater ties between the two countries in the past three years, forged during the meeting of Chinese President Xi Jinping and Philippine President Rodrigo Duterte on April 25.
"China is willing to synergize its development plan with the Philippines, create cooperation highlights within the framework of the joint construction of the BRI (Belt and Road Initiative) and deepen the connectivity and development of China and the Philippines with other countries of the region," she said.
Zhou also noted that in November last year, the NRTA and the PCOO signed a memorandum of agreement on Sino-Philippine Broadcasting and Television Cooperation.
"China is willing to continue to strengthen cooperation with the Philippines in the fields of news exchange, program production, technology R&D, industrial development and human resources construction, to achieve win-win and common development," she added.
Meanwhile, Liu Ying, vice president of NRTA's Research and Training Institute, said since the diplomatic ties between China and the Philippines began in June 1975, the two nations have put the concept of "harmony" in working together to push for mutual development.
"The workshop will build an extensive communication platform for media professionals in China and the Philippines, actively promote the in-depth media convergence and promote the common development of the industry of the two countries," she said.
The Philippine delegation, led by PCOO Director Vinci Beltran, consists of media practitioners from the PCOO and its attached agencies -- the Philippine News Agency, Radio Television Malacañang, Philippine Information Agency, People's Television Network, Inc. and the Bureau of Communication Services.
Completing the 30-man delegation are journalists from Sun Star (Cebu), iOrbitNews (Pampanga), Manila Times (Bulacan) and Pulso ng Makabagong Caviteño.
The 2019 Seminar for Media Reporters of the Philippines is a 14-day seminar set in Beijing and Shenzhen, China. Organized by RTI-NRTA, it aims to build cooperation and understanding between the media industries in the two countries. (PNA)