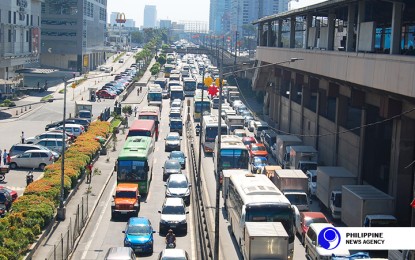 MANILA -- Former Presidential Adviser on Political Affairs Francis Tolentino, who is currently among the winning circle of 12 in the mid-term polls' senatorial race, said he is going to push for the passage of emergency powers in the Senate to solve traffic woes, particularly in Metro Manila.
Tolentino, former Metropolitan Manila Development Authority (MMDA) chairman, said he is willing to "refile" an emergency powers measure despite the measures pending in both chambers of Congress.
"Nabanggit ko iyon noong campaign na kung kinakailangang ire-file iyong emergency powers, gagawin po natin 'yan (I mentioned during the campaign that if there is a need to refile an emergency powers measure, I'll do that)," Tolentino said in an interview over Radyo ng Bayan on Friday.
Tolentino, among the candidates endorsed by President Rodrigo Duterte in the May 13 polls, said he will discuss his plan with the Chief Executive.
He also said he would want to strengthen the mandate of the MMDA, which is currently in charge of crafting and implementing a development plan to address transport decongestion, climate change, waste management, and disaster prevention, among others.
"Pagbabago ng mandato na rin noong MMDA, kung papaano mas magiging epektibo sila para tumulong maibsan ang traffic sa Metro Manila (We need to change the mandate of the MMDA, how they can be more effective in resolving traffic in Metro Manila)," Tolentino said.
Although majority of the leading senatorial candidates in the recent elections are allied with the administration, Tolentino said he will not be the President's lapdog.
He emphasized that the Senate should be viewed as an "institution" and that the public should pay less attention to individual members.
Tolentino also pointed out that there is a separation of powers between branches of government but acknowledged that he and the President have similar priority legislation.
"Hindi po ibig sabihin na sinunod namin iyong ganito ay ganoon na. Gaya ko po, marami pa hong initiative si Pangulo na pareho kami (It doesn't mean we'll be blind followers. It's just that the President and I have similar initiatives)," he said.
Several lawmakers have filed bills granting Duterte emergency powers to solve traffic problems after the President said in his first state of the nation address (SONA) in 2016 that traffic woes should be "legitimately addressed" if Congress could accord him emergency powers.
Duterte, however, eventually said he has given up on his plan to address the worsening traffic situation after some lawmakers claimed that emergency powers might be used for corrupt activities.
"Let's just leave Edsa as it is. If you don't trust me, then don't. Congress won't give me emergency powers for traffic. Ayaw ko na rin (I don't want it. too)," Duterte said in a one-on-one in interview with Chief Presidential Legal Counsel Salvador Panelo in September last year.
Aside from emergency powers, Tolentino said he would also want to push for the creation of a Department of Disaster Management and the revival of the mandatory Reserve Officers' Training Corps (ROTC).
"Marami hong pareho kami. But hindi po ibig sabihin naging rubber stamp ako. Nagkataon lang talagang pareho iyong aming ideyolohiya tungkol po dito (We have a lot of similar priorities. But it doesn't mean I'll be a rubber stamp. It really just is a coincidence that we have the same ideologies about this)," he said.
If given the chance to select a Senate committee to chair, Tolentino said he would want to chair the panels on local government and environment.
Data from the partial, unofficial tally places Tolentino on the ninth spot in the senatorial race with more than 15,000 votes. (PNA)