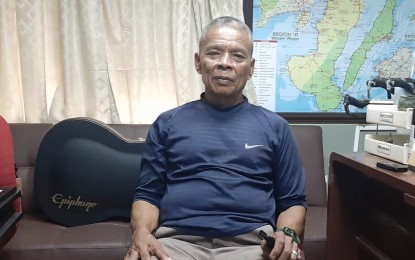 CEBU CITY -- It was the promise of the "organizers" to give him farmland to till, which prompted him to join the New People's Army (NPA). It was a promise that changed his life, when what was given to him was a gun to kill his fellow farmers who decried the rebels' abuses.
Julieto Pescadero Canoy, who traced his family in Cebu but had been known in the Davao del Sur-South Cotabato hinterlands as "Tatay Bong," in an interview, recalled how the "black propaganda" of the NPA rebels twisted his mind to join as an organizer and later as "terrorist fighter" and "finance officer".
Tatay Bong, 65, was born in Cebu. His father was a farmer from Toledo City and his mother hailed from Argao in southern Cebu. He recalled how NPA organizers deceived him through disinformation and empty promises and made him a "fighter for a false cause" for 31 years.
When his parents arrived in Davao del Sur in the late '50s, he recalled how productive their life was, as a family, but all of that changed due to deceptive information he got from the organizers.
He joined the rebel movement at the age of 26 in 1980 in Davao del Sur.
"Mag-uuma gyud ko. Na-engganyo pagsulti nila sa tulo ka batakang problema sa nasud. Niapil ko kay kun makadaog mi, hatagan mi og yuta. (I was a farmer. I was brainwashed by their discussion on three top problems in the country. I joined when they promised for a farmland once we win)," Tatay Bong recalled.
Transformed into a full-blown organizer because of his talent in public speaking, Tatay Bong recalled how he became the peddler of lies and deceptions to the farmers when he himself organized farmer groups in other towns.
Later on, the farmer-turned-organizer became suspicious of his group's main agenda when he discovered that the results were not the ones promised him.
"Di man yuta ilang gihatag nako, armas man kay pagubaton man mi sa mga PC (They gave me no farmland, they provided me with a gun to fight against the Philippine Constabulary)," he further recalled.
Collecting dues from poor farmers
As a farmer, Tatay Bong knew about "hand-to-mouth" existence, with their farm yield not enough to sustain a family's needs.
However, being part of a farmer-group organized by the NPA, each member should pay a monthly due of PHP5 to the organization, he said.
Collecting the farmer's monthly dues was what taught Tatay Bong the skills of a "treasury man" and later on assigned to be the command's finance officer.
He served as finance officer in Davao del Sur and South Cotabato.
According to him, he started to doubt what he was fighting for when he saw the big shots of the NPA in Mindanao.
Being a finance officer, he recalled having a meeting with the bigwigs of the NPA, like George Madlos alias "Ka Oris" and his wife, Myrna Solarte alias "Maria Malaya", in one of the towns in Caraga region, to remit the proceeds of their extortion activities in the mountain villages there.
In those meetings, Tatay Bong said he could compare himself to a real fighter, and could not identify with the top NPA officials, in the way they dressed and the texture of their skin. "Ako lago, way ligo, itom og panit. Silang Ka Oris ug Maria Malaya hamis kaayo og panit (I was bushy, unbathed, dark skinned. Both Ka Oris and Maria Malaya have smooth skins)," he noted.
NPA as hindrance to progress
As a farmer, Tatay Bong said he could still recall how progressive the life of the farmers in Davao del Sur.
He said that during those days when there were no NPA rebels in his place, farm life was a happy life for them in the village.
"Sa una, gamay pa ko, mga hinapos ang dekada 50, katimaan pa ko nga puwerteng daghana namong produkto sa kabukiran, kargahan namo trak (Before, when I was a child, around the end of year '50s, I could remember that we have so many produce from our farm that we load up to the trucks)," he recounted.
"Bag-ong entrada ang tuig '70s paingon '80s, grabe ang binakwitay wa nay tarong among uma. Wa na mi mahimo kay sige naman mi bakwit, sige naman binakbakay kay daghan naman rebelde, naa namay daghang armas sa kabukiran (As year '70s came until '80s, we could no longer cultivate our farm because of massive evacuation that occurred. Nothing that we could do because of the rise of number of rebels and the proliferation of firearms in the mountain)," Tatay Bong narrated.
He is still hopeful that farming villages in Mindanao can still regain the usual glory once there would be no more NPA terrorizing them and extorting money.
NPA in urban areas
The former NPA finance officer said that the national government should boost its "political propaganda" against the Communist Party of the Philippines-NPA-National Democratic Front (CPP-NPA-NDF).
He stressed that NPA rebels as terrorist can now be found in the urban areas, blending with their comrades in the legal front.
He said some of those marching on the streets and shouting anti-government slogans are NPA terrorists who just momentarily left their guns in the bushes.
He said that urban metropolis, like Cebu, is a favorite vacation and meeting place for NPA terrorists and their conduits in the legal fronts.
As former troop leader before he got arrested by the Philippine Army Scout Rangers in the boundary of Agusan del Sur and Surigao del Sur, he said six female students had fought beside him.
While he could not recall which universities they came from, Tatay Bong could only remember that these female students functioned as medical officers for his team of 21 NPA terrorists.
"Mga produkto sila sa organizing sa siyudad. Nahimo silang NPA (They were products of organizing activities in the city. They ultimately became NPA)," he said.
Horrible life as terrorist
Tatay Bong recalled how the people, especially their comrades, were drawn together and tied with strings after being sentenced to death by a Kangaroo court, during the "Kampanyang Kahos," the NPA's campaign against alleged spies, moles, and infiltrators.
"Luoy kaayo tan-awon akong mga kauban. Gilambinglambing, gihiktan dayon hagpakon ang tangkugo og pinintol (I pitied some of my colleagues. They were tied together then bashed with a pinintol), he said.
Pinintol or anvil is a solid piece or heavy block of iron or steel, on which, hot metals are usually hammered and shaped into bolos or knives.
He saw some of his comrades dug their own graves. He said some were even buried alive.
According to him, he was haunted by his conscience with what he saw while he was still actively fighting against the government forces.
"Sa pagsulod nako, among edukahon ang mga mag-uuma nga mokuyog namo. Ang di mokuyog, palayason, ang di molayas patyon (When I joined the NPA, we convinced the farmers to join us. Those who would not join us would be asked to leave. Those who would not leave would get killed)," he recounted, while stressing those were the reasons he was looking for a way to sever his ties with the terrorists.
The time to end his rebel days came in 2011 when he was arrested in Barangay New Tubigon, Sibagat town of Agusan del Norte.
He said that when the Scout Rangers chanced upon him, he raised his hands to surrender and at the same time closed his eyes.
But the thought of being killed by the Scout Rangers never crossed his mind as they even addressed him as "Tay", when asked about his identity.
Fast forward to 2019, through the power of mass media and community forums, Tatay Bong wants to repay for his horrific iniquities by becoming active in convincing fellow NPA terrorists to go back to the fold of the law.
Now a gentle member of the citizenry and following the laws and ordinances in his place, Tatay Bong said he is not afraid to face his former colleagues, even the bigwigs of the CPP-NPA-NDF, to show that their lost cause is not the answer to the country's problems but serves as hindrance to achieving progress. (PNA)