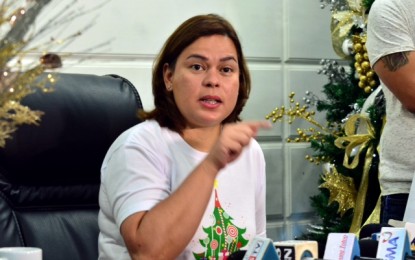 DAVAO CITY -- Presidential daughter and Davao City Mayor Inday Sara Duterte has denied influencing the selection for the Speaker of the House of Representatives.
"I am only the Mayor of Davao City. I am not the correct person to endorse someone to be the next speaker," she said in a statement Tuesday.
Admitting she has a personal bet, Mayor Sara, however, said she does not intend to influence Congress.
"It is best if the newly-elected members of the House of Representatives individually decide who among those who are interested to become the next speaker can truly bring good governance and positive change to Congress, to the Filipino people, and to our country," she said.
Mayor Sara issued the statement following claims by Surigao del Sur First Dist. Rep. Prospero Pichay that she recommended Leyte Representative Martin Romualdez as speaker of the House.
"If I did raise his hand during the HNP (Hugpong ng Pagbabago) rally in Tacloban, I did so because of he, just like Representative Lord Allan Velasco (Marinduque), is supportive of the reform agenda of President Duterte," she said.
In the same statement, she also rejected the reconciliation offer of former House Speaker, Davao del Norte Rep. Pantaleon Alvarez.
"The offer was deceiving and utterly lacked sincerity," she said.
The mayor was alleged to have a hand in the ouster of Alvarez as House Speaker in 2018. Alvarez is said to be eyeing the House speakership following his reelection as first district representative of Davao del Norte.
According to Mayor Sara, Alvarez was videotaped threatening "ipapahiya ko si Sara" after his win in the May 13 mid-term elections.
In the May 13 polls, majority of the local officials, who won in Davao del Norte, are allies of Alvarez under the Partido Demokratiko Pilipino-Lakas ng Bayan (PDP-Laban). Most of the HNP candidates, including Second District Rep. Antonio "Tonyboy" Floirendo and Governor Anthony del Rosario, lost in the election.
"Alvarez was and he remains to be a very dangerous, (a) Machiavellian individual who does not deserve peace," Mayor Sara said.
The mayor also confirmed that Taguig Congressman-elect Alan Peter Cayetano did not seek for her endorsement when the latter came to Davao last year.
"He, however, came with a veiled threat, that if I endorse Rep. Velasco for Speaker, I would break up the 'group'," she said. "And this, he said, will affect the presidential elections of 2022."
On Davao City First District Congressman-elect Paolo Duterte's possible vying for speakership, Mayor Sara said it "should best be addressed by our father because he is the President and our patriarch." (PNA)