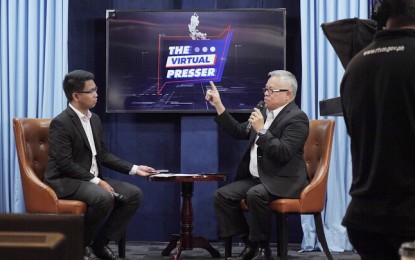 MANILA -- The Philippines is eyeing to ink two investment agreements with Japan in high-tech industries during President Rodrigo Duterte's official visit to Tokyo next week.
Department of Trade and Industry (DTI) Secretary Ramon Lopez, in a presser on May 16, said his agency has received "a lot" of letters of intent from Japanese companies to invest and expand their businesses in the Philippines, with two deals ready for signing.
"We have two in the list already. They are more in the high-tech, AI (artificial intelligence) sector, data analytics, we're seeing that. And of course, others are in manufacturing, as well," Lopez said.
During his guesting at "The Virtual Presser", Lopez discussed the latest developments on the trade and investment agreements previously signed during Duterte's participation in the Belt and Road Forum in April, as well as the Philippine delegation's agenda in the upcoming visit to Japan for the Future of Asia forum, organized by Nikkei, on May 30-31.
Lopez said the government is seeking for a high-level bilateral meeting between Duterte and Japan Prime Minister Shinzo Abe on the sidelines of the forum.
"Typically, on a normal visit, there is always that attempt to have that bilateral meeting. I mean they're good friends. We've seen that even in the visit of Prime Minister Abe in the home of our president in Davao. And we expect continuing discussions on many things and that includes a lot of cooperation not only in the economic trade and investment, but also security cooperation, anti-terrorism, and all that. These are things that both leaders would update each other on and reconfirm their commitment," he said.
"Apart from the overall, the macroeconomic reforms, certainly the President will push for greater bilateral trading, investment relationship with Japan. If he is addressing Japanese investors, certainly we expect more Japanese trade deals, and Japan has been a big investor in the Philippines. We'd like to invite more of them," he added.
Moreover, Lopez said the government may also review the Japan – Philippines Economic Partnership Agreement (JPEPA) comprehensive bilateral trade and investment deal.
"At any rate, this JPEPA is really bound for a review. And that, when this was initiated, the initial objective of the country -- this has been raised by President Duterte to Prime Minister Abe -- is somehow for Japan to allow greater access for some agriculture products, like banana, and lowering tariff rates for banana to our exports to Japan. So that's a commodity, plus other agriculture products," Lopez said.
"That's a primary concern. This has been raised, and it was agreed that these negotiations can be adjusted in the review of the JPEPA. We can expect hopefully an improvement of market access to Philippine products going to Japan," he added.
China deals
Lopez also lauded the President's move to set aside geopolitical issues with China to reap trade and investment deals.
"What we have started to see ever since of course the relationship between our two countries have improved following the visit of our President to China and meeting face to face President Xi Jinping, a lot of investments have come in. Just in terms of numbers, what used to be a very minuscule level of above PHP50 million dollars, about two to three years ago, it's now close to a billion dollars and we expect more," Lopez said.
He said Chinese companies have injected funds into the energy, manufacturing, and infrastructure sectors, on top of the USD9 billion official development assistance pledged by the Chinese government to aid in the Philippines' "Build, Build, Build" program.
Lopez also noted that the Chinese government itself has not only been encouraging its businessmen to invest in the Philippines, but also to import more Philippine products.
US-China trade war
Moreover, Lopez also said that the government is readying Philippine businesses to brace for the impact of the US-China trade war, despite some positive short-term effects.
"To a certain extent, there can be some silver lining in terms of being able to attract the relocators of businesses, manufacturing facilities from China to the Philippines. But on the other hand, the reality is also this global trade tension that affects basically all other countries, then all trading partners of the Philippines will definitely be affected and we can't avoid the fact that orders from these countries and the general trading environment will also experience a slowdown," he said.
He said the DTI is looking to boost the presence of Filipino products in non-traditional markets, such as Russia, South America, and Africa; while also diversifying its trade portfolio to new products such as food, chemicals, auto parts, aerospace parts, activated carbon, design-oriented garments, furniture, business process management, design, graphics, animation, and game development.
Moreover, Lopez also said that the win of Duterte-endorsed senatorial candidates in the mid-term elections will help the DTI push for liberalizing trade and investment restrictions, such as the further easing of the Retail Trade Liberalization Act, and the Public Service Act.
Lopez added that the DTI will support the lowering of the corporate income tax rate from 30 percent to 20 percent and the rationalization of fiscal incentives through the Tax Reform for Attracting Better and High-Quality Opportunities (TRABAHO) bill.
The Virtual Presser, organized by the PCOO Office of the Global Media Affairs, is an interactive online video platform where journalists based abroad can ask top government officials of the Duterte administration questions on the nation's pressing issues relevant to the global conversation. (PCOO)