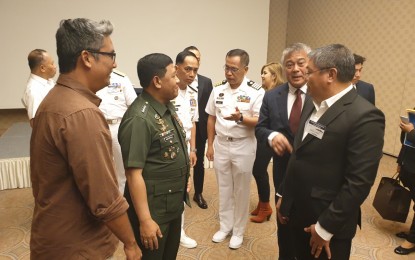 ULSAN, South Korea -- The Philippine Navy (PN) is expected to acquire another three multi-purpose attack craft (MPAC) armed with the Rafael Advanced Defense Ltd. Spike-ER (extended range) surface-to-surface missile system this year.
"We have another three (in the process of) building, and they are expected to be delivered this year. They will also be armed with the Spike-ER missiles," PN flag officer-in-command Vice Admiral Robert Empedrad said in an interview with the Philippine News Agency (PNA) shortly after the launch of the missile frigate, BRP Jose Rizal (FF-150), at the Hyundai Heavy Industries shipyard here Thursday.
These MPACs will be called the Mark IV and have started construction in November last year.
Empedrad said the builders of the MPACs are the same as that of the previous Mark II and III.
The PN's three Mark III MPACs were constructed by the Subic-based Propmech Corp. and activated on May 22, 2017.
These boats can cruise up to 45 knots and are armed with remotely-controlled .50-caliber machine guns aside from the Spike-ER missiles. (PNA)