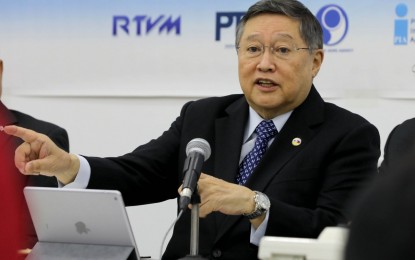 MANILA – Economic managers have agreed to further strengthen coordination with other agencies, especially on acquiring permits and other requirements, to fast-track implementation of infrastructure and socioeconomic programs to meet 2019 growth targets amid the impact of budget delay.
Finance Secretary Carlos Dominguez III, in a statement after the meeting of the Economic Development Cluster at the Department of Finance (DOF) Friday, said officials of both the Department of Public Works and Highways (DPWH) and the Department of Transportation (DOTr) are optimistic of meeting their disbursement program for this year.
"To enable them to attain their targets, it would require close cooperation and support of other government agencies by expediting the approval of permits and other requirements," he said, as he expressed hope that "no major weather disturbance will disrupt the implementation of the projects."
The social protection programs that were agreed to be implemented faster include the national ID System, 4Ps, social pension, unconditional cash transfers, and fuel marking program.
Dominguez said that aside from these programs, the government will also "double its efforts in the agriculture sector, which should expand by at least 2 percent per year."
He explained that if the 2018 national budget was approved on time, growth in the first quarter of the year would have risen between 6.6 to 7.2 percent instead of the four-year low of 5.6 percent.
President Rodrigo R. Duterte signed this year's budget only last April after the impasse in Congress.
Dominguez said that since the government worked on a re-enacted budget in the first quarter, there was about PHP1 billion underspending per day.
He, thus, stressed the need to put in a "carefully crafted and bold expenditure catch-up plan to enable us to hit a GDP growth rate of above 6 percent this year."
He said spending from January to March this year reached PHP778 billion, little moved from year-ago's PHP772 billion.
The programmed spending for this year amounts to PHP3.774 trillion, or about 19.6 percent of gross domestic product (GDP) while total infrastructure disbursement was set at PHP1 trillion or about 5.2 percent of domestic output.
Dominguez also noted the need for the participation of the private sector to help boost economic growth, thus, the enactment of the Ease of Doing Business in May 28, 2018 to entice more businesses.
He also said that "the Executive and the Legislative branches of government also need to work together in passing legislation that allows for a business-friendly environment, such as the Public Service Act, Foreign Investments Act, and the Retail Trade Act."
The continued deceleration of domestic inflation rate, which declined to 3 percent last April after peaking at 6.7 percent in September to October last year, is also positive for the economy, he said.
"We will intensify our efforts to restore last year's upward momentum in our growth rate," he added.
Relatively, Socio-economic Planning Secretary Ernesto Pernia, during a press briefing after the EDC meeting, said economic managers are still studying whether to adjust this year's economic targets.
"We still have to do some number crunching to have more realistic numbers regarding growth rate and related numbers so it is better that we wait until we are more confident with what we can tell you," he said.
Among others, GDP target this year has been lowered to between six to seven percent while deficit target is at 3.2 percent of domestic output.
Meanwhile, Department of Budget and Management (DBM) acting chief Janet Abuel said that because of the delay in the approval of this year's budget, it will be hard to fully implement the cash-based budgeting system, which requires all state agencies to pay within the year all the contracts they need to accomplish.
She said deadline for the infrastructure projects and payments for these contracts has been moved to December 31, 2020 while those for Maintenance and Other Operating Expenses (MOOE) will be on June 30, 2020.
"We hope that will lessen the worries of the agencies in paying their contractors," she added. (PNA)