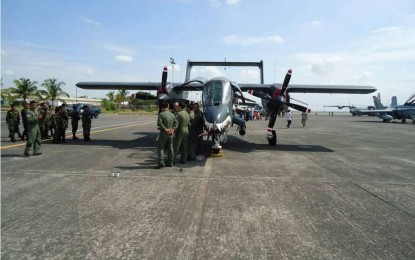 MANILA -- All of the North American Rockwell OV-10 strike aircraft of the Philippine Air Force (PAF) have been grounded following the crash of one of the bombers while about to land at the Sangley Point Airport in Cavite last May 24.
"(Grounding of the remaining OV-10 aircraft is) part of our safety procedure, the aircraft will be grounded," said PAF spokesperson Major Aristides Galang on Monday.
Around five to six OV-10s are still being operated by the PAF.
If needed, the South Korean-made FA-50PH fighter aircraft and McDonnell Douglas MG-520 "Defender" attack helicopters can be deployed for missions.
"Depending on the type of missions, we can use the MG-520s or FA-50s if necessary," Galang said.
There is no order yet as to when the grounding order for the OV-10s would be lifted.
Last May 24, PAF OV-10 with tail number 402 and belonging to the 15th Strike Wing, crashed while turning crosswind for landing on runway 25 of Sangley Point Airport during the scheduled proficiency flight.
The two pilots safely ejected and were recovered by local fishermen in the area 2.5 kilometers from the shoreline of Rosario, Cavite.
The personnel were immediately picked-up by a civilian fishing boat and brought to Major Danilo Atienza Air Base Hospital.
"The investigation team was already activated to conduct a thorough investigation of the mishap," Galang said. (PNA)