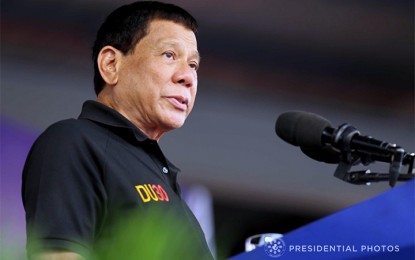 MANILA -- If his son, Davao City Rep. Paolo "Pulong" Duterte, decides to bid for Speaker of the House of Representatives, President Rodrigo Duterte said he will resign.
Duterte, in a speech in Malacañan Palace on Monday, admitted that although he was "neutral" when it comes to who would be the next House Speaker, there were sectors urging Paolo to run.
"[Sa] Speakership, neutral ako (I'm neutral). My son Paolo, he's being rooted to run. I will tell my son publicly now, we would have a talk," Duterte said.
He reiterated that he never discussed politics with any of his children except the time when he asked his eldest daughter Sara to be his running mate in 2007.
The President, however, said he would step down once Paolo chooses to seek House Speakership since his winning could mean too many Dutertes occupying top posts.
"Itong si Paolo, sabihin ko sa kanya (I told Paolo), if you run for speakership, let me know. Kasi kung tatakbo ka, magre-resign ako. Kasi marami na tayo (because if you're running, I will resign. Because there's too many of us now)," Duterte said.
Sara is currently Davao City mayor while his youngest son, Sebastian, nicknamed "Baste" is vice mayor.
"Then 'yung kapatid mo mayor tapos (then your sister is mayor) quite really for someone who's so uneasy about these things. Though I think it's a democratic practice," Duterte said.
"But then again, with the vice mayor, anak ko, 'yung youngest son ko si Baste and Pulong as Speaker, ako ang Presidente, hindi na maganda tingnan (my youngest son, Baste and Pulong as Speaker, me as President, it no longer looks good)," he added.
Duterte said he has no control over Paolo's decisions since he is an adult who could make up his own mind.
He, however, appealed to his son to tell him of his intentions of running for speakership three days before he announces it in public.
"He does not listen to me. He has his own life to live. Good," Duterte said.
"If he insists on running, maniwala siya sa mga advisers niya (if he believes his advisers), go ahead. Let me know three days in advance before you make the announcement and I will tender my resignation," he added.
Last week, Presidential Spokesperson Salvador Panelo said Duterte will not meddle in the selection of the next Speaker of the House of Representatives.
There are three PDP-Laban members seeking to replace former President and now Speaker Gloria Macapagal-Arroyo, namely Pampanga Rep. Aurelio Gonzales, Marinduque Rep. Lord Allan Velasco, and former Speaker and reelected Davao del Norte Rep. Pantaleon Alvarez, who is seeking to reclaim the House Speakership that he lost in a coup last year. (PNA)