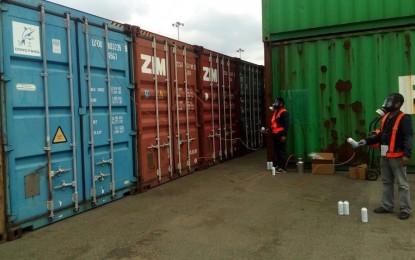 MANILA -- The tons of garbage exported from Canada to the Philippines will be shipped back by May 30, Foreign Affairs Secretary Teodoro Locsin Jr. said Monday night.
"All containers containing garbage (are) cleaned and ready to go. (We are) waiting for a couple of documents and routine permission from China for transshipment to Canada," he said in a tweet.
"Departure is May 30. Anybody gets in the way, one way or another, I will screw you dry. Don't provoke me," he warned.
From 2013 to 2014, a Canadian company, Chronic Inc., exported containers labeled as recyclable plastics to two importers in the Philippines. It was later found out that these contained non-recyclable plastics, household wastes and used adult diapers.
In 2016, the Philippine government ordered the importers to ship the containers back to Canada at their expense. However, the importers did not comply.
Late in April, President Rodrigo R. Duterte gave Ottawa an ultimatum to take back its trash. A few days after, Locsin said the deadline is on May 15.
Ottawa, however, missed the deadline prompting the Department of Foreign Affairs to recall its ambassador and consuls to Canada. (PNA)