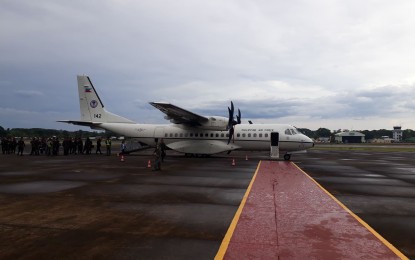 MANILA -- The Philippine Air Force (PAF), through its Bids and Awards Committee, has allocated the sum of PHP25,078,000 for the acquisition of spare parts needed for the repair and maintenance of the propeller blades of two of its two Airbus Military C-295 medium transport aircraft.
The spares are intended for C-295 medium aircraft tail numbers 140 and 142.
Submission of bids is scheduled for June 7, 9:15 a.m. at the PAF Procurement Center Conference Room of Villamor Air Base, Pasay City.
"Prospective bidders should have an experience in a similar project within the last five years," said PAF Bids and Awards Committee chair, Brig. Gen. Carlo Bueno N. Buena, in the bid bulletin posted at the Philippine Government Electronic Procurement System Tuesday.
The PAF has three C-295 in its inventory. All three are assigned to the 220th Airlift Wing which is based in Mactan, Cebu. All three planes are worth PHP5.3 billion.
"The PAF reserves the right to reject any and all bids, declare a failure of bidding, or not award the contract at any time prior to contract award in accordance with Section 41 of RA 9184 and its IRR, without thereby incurring any liability to the affected bidder or bidders," he added.
The Airbus Military C-295 is a new generation, very robust and reliable, highly versatile tactical airlifter able to carry up to nine tonnes of payload or up to 71 personnel, at a maximum cruise speed of 260 kt /480 km/h.
Fitted with retractable landing gear and a pressurized cabin, it can cruise at altitudes up to 25,000 ft, while retaining remarkable short take-off and landing performance from unprepared short, soft and rough airstrips, as well as low-level flight characteristics. (PNA)