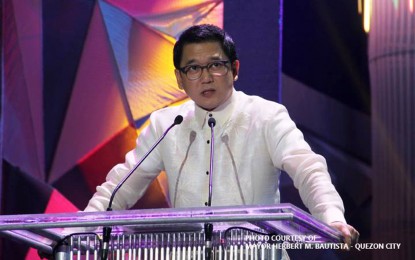 MANILA -- When Quezon City Mayor Herbert M. Bautista yields the reins of the city government to his successor, Mayor Josefina "Joy" Belmonte on June 30, he will be bringing with him a colorful political career record in government service that began when he was just 18 years old in 1986.
Born on May 12, 1968, Bautista, who is also known by his popular moniker "Bistek," has a long experience in the movie-television-radio entertainment field since the second half of the 1970s.
In his website, it shows that from 1986 to 1989, he was president of the Kabataang Barangay (KB) National Federation and was appointed ex-officio Quezon City councilor representing the Youth Sector of Quezon City until 1992.
KB was the predecessor of the present Sangguniang Kabataan or SK.
In the 1992 elections, he ran for a regular City Council seat and won under the ticket of Mayor Ismael A. Mathay Jr.
He served concurrently as chairperson of the City Council Committee on Tourism and Cultural Affairs.
He ran for the post of vice mayor in the May 1995 midterm polls and won, becoming the youngest and first bachelor vice mayor of the former capital city of the country.
In 1998, he ran for mayor but lost to incumbent Mayor Mathay, then in his third and final term.
A year later, he was appointed by then President Joseph Estrada as commissioner-at-large of the National Youth Commission (NYC).
In 2001, Bautista returned to politics when he was elected as vice mayor of Mayor Feliciano "Sonny" Belmonte.
He was reelected for the next two terms (2004-2007 and 2007-2010). He thus held the second highest post of the city for a total of 12 years (first from 1995 to 1998 and then from 2001 to 2010).
With the end of Mayor Belmonte's three-succeeding terms of three years each, Bautista ran for the city's top elective post and enjoyed a landslide victory in May 2010.
Elected as his vice mayor was Josefina "Joy" Belmonte, daughter of then outgoing Mayor Sonny Belmonte.
On June 30, Bautista will turn the QC hall over to the younger Belmonte who, in turn, will be succeeded by Vice Mayor-elect Gian Sotto, son of Senate President Vicente C. Sotto III.
Aside from his government service, Bautista also prides himself with a long movie-television-radio entertainment industry experience dating back to his days in Clubhouse 9 over Radio Philippines Network or RPN in 1977.
In the movies, among the numerous films he was featured were "Nardong Toothpick", "Kumander Toothpick", "Captain Barbell", "Ninja Kids", "Bagets", "Dobol Trobol", "Incredible Twins", "Shake, Rattle and Roll", "Raketeros", and "Kumander Bawang". (PNA)