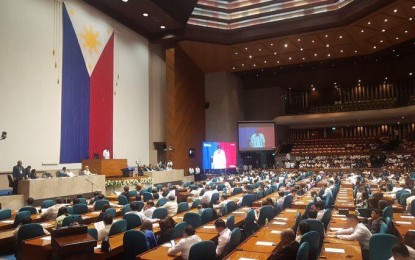 MANILA -- The Partylist Coalition Foundation Inc. (PCFI) would be insisting on retaining all the positions it presently holds in the House of Representatives to whoever the Speaker will be in the 18th Congress, an officer of the group said Tuesday.
In an interview, Ako Bicol Rep. Alfredo Garbin Jr. said the party-list bloc currently holds 32 positions in the House.
"Gusto namin, amin pa rin ang mga posisyon na hawak na mga party-list Congressmen ngayon (What we wanted is to retain all the positions currently held by Partlist lawmakers)," said Garbin, who is a member of the PCFI board of trustees.
Among those positions include the chairmanships in the House committee on suffrage and electoral reform, committee on cooperatives, committee on women and gender equality, committee on government reorganization, committee on micro, medium and small enterprises development, committee on overseas workers affairs, and committee on poverty alleviation, among others.
Partylist lawmakers also hold two seats in the powerful Commission on Appointment, as well as two seats in the House of Representatives Electoral Tribunal.
Meanwhile, party-list lawmakers also hold ranking positions as deputy speaker, deputy majority leader, and deputy minority leadership positions.
"We want to retain these positions in the incoming Congress, no matter who will be the next Speaker," Garbin said.
There will be 61 party-list lawmakers, from 51 party-list groups who won in the midterm elections, who will sit in the 18th Congress.
Of this number, 54 belong to the PCFI. Members of the so-called Makabayan bloc and the Magdalo Partylist group do not belong to the coalition.
Garbin earlier said that the PCFI has been solidifying its forces in voting for the next Speaker, as party-list representatives want equal treatment with district congressmen.
He said the PCFI has invited all those who expressed interest in the Speakership post to ask for their respective plans for the 18th Congress and also for the coalition.
These included Marinduque Rep. Lord Allan Velasco, Taguig Representative-elect Alan Peter Cayetano, former Speaker and Davao del Norte Rep. Pantaleon Alvarez, and returning Leyte Rep. Martin Romualdez.
Garbin said the PCFI will vote as a bloc and will come out with only one candidate to support for Speaker.
The lawmaker said the endorsement of Malacañang, if any, will also give weight to their decision. (PNA)