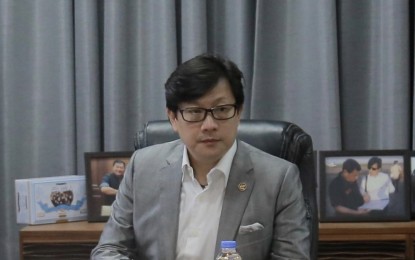 CEBU CITY -- The top presidential aide for the Visayas on Thursday said he welcomes the proposal of a Davao-based firm to construct a monorail system, instead of a Light Rail Transit (LRT) system, for Metro Cebu.
Secretary Michael Lloyd Dino, chief of the Office of the Presidential Assistant for the Visayas (OPAV), said that monorail "is the right track in solving the traffic gridlock that we have been suffering for years now."
"Monorail is faster to build, consumes less footprint and it has the carrying capacity for Cebu's needs," Dino said in a statement sent to the Philippine News Agency (PNA).
Last Tuesday, Udenna Infrastructure Corp. announced that it is considering a monorail system for Metro Cebu.
Manuel Jamonir, assistant vice president for operations and business development manager of Udenna Infrastructure, was quoted in a newspaper report as saying that using the monorail technology, the project cost will be brought down to about PHP80 billion, half of the estimated cost of an LRT system.
The firm and its foreign partner were granted original proponent status (OPS) for its proposed Cebu Rail Project under an unsolicited proposal submitted to the Department of Transportation (DOTr) last year.
Under the OPS, the national government gives Udenna the right to match any competing offer in a Swiss challenge when the procurement process starts that entails inviting other companies to bid for the same project as mandated under the Build-Operate-Transfer Law (Republic Act 7718).
According to Dino, Cebu has been clamoring for a modern mass transport system for almost 30 years now.
The presidential assistant for the Visayas expressed his confidence that Cebu will "finally have our mass transit system," with Udenna's dedication to spearhead the rail technology here.
Dino said he is positive that Udenna and its foreign partners' OPS on the project will soon be endorsed to the NEDA ICC for technical review.
"My goal is not just to reduce the burden of Cebuano commuters but to solve the horrendous traffic that we are experiencing today," he said.
"I am glad that the private sector is bullish in investing in a massive infrastructure project that aims to solve Metro Cebu's traffic problem," he noted. (PNA)