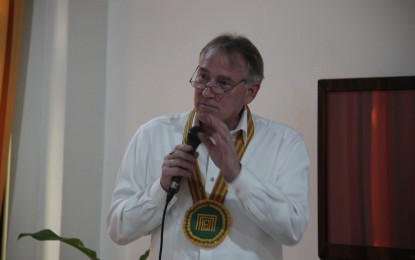 BATAC CITY -- An official of the United States Embassy in the Philippines said on Thursday that about USD250 million worth of assistance is regularly given to the country in areas of security, military equipment, and exchange programs.
John C. Law, Deputy Chief of Mission of the US Embassy in the Philippines, said aside from the security and military assistance, which are already here, "the US government is also providing the Philippines some USD60 to USD70 million a year mainly for the conduct of exchange programs".
Speaking in a forum attended by the faculty and students of the Mariano Marcos State University (MMSU) in this city, Law said that "sometimes the figure would increase depending on the need of the Philippine government".
Last year, the US government gave USD110 million to the country for the procurement of US military equipment, the biggest financial assistance that the US government has provided to an Indo-Pacific region country.
"For development-type programs, financial assistance was mostly associated with the United States Agency for International Development (USAID), such as the aquatic resources research that amounts to USD100 million a year, plus those activities which are in line with disaster relief and humanitarian assistance," Law said.
The US official said that after the infamous Marawi City siege, the USAID provided USD59 million to help the displaced families with their basic necessities such as food, water, and shelter.
"Another financial assistance that is given yearly is intended for law enforcement activities of the Philippine National Police (PNP), which are in line in fighting illegal drugs, smuggling, and strengthening the judicial sector," Law said.
"For these activities, the US government is giving (more or less) USD250 million a year," he added.
Law said there are also investments coming here from the US private sector that will likely benefit the natural resources sectors. One of these is the plan to put up a Liquefied Natural Gas (LNG) port facility to bring in liquefied natural gas into the country.
LNG is the liquefied form of natural gas, which has a much smaller volume than natural gas in its gaseous form. This liquefied condition is used to facilitate the carriage of natural gas over long distances, often by sea, in specialized tanks.
"American companies were very excited about the possibility of putting up an LNG port terminals in the Philippines because a lot of them (US companies) have vast experiences building such facilities," Law said.
LNG port terminals are purpose-built terminals designed to accommodate large LNG carrier ships designed to load, carry and unload LNG.
These LNG terminals are located adjacent to a gas liquefaction and storage plant, or to a gas re-gasification and storage plant), which are connected to gas pipelines connected to on-shore or off-shore gas fields or to storage and distribution plants. (PNA)