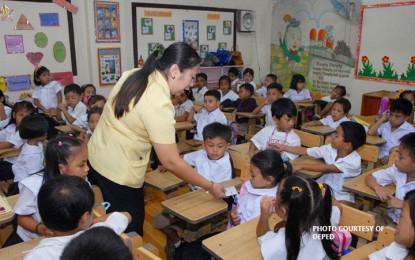 MANILA -- The Department of Education (DepEd) on Sunday reminded parents and teachers to teach students about the responsible use of their cellphones as classes open on Monday.
In a radio interview, DepEd Undersecretary Annalyn Sevilla explained that the prohibition of cellphone use during class hours is mandated by the DepEd Order 83 series of 2003 or the order "Prohibiting Students of Elementary and Secondary Schools from Using Cellular Phones and Pagers During Class Hours".
Sevilla said the government started with the prohibition of cellphone use in 1999.
Emphasizing that phones are easily used today to spread nude photos, Sevilla urged the parents to consider their children's age in relation to using or owning phones.
She made the remark recognizing the recent issues concerning high school students sharing online nude photos and videos of their classmates.
"We also respect the discretion of the parents. I myself is a parent. I know when he or she can be responsible about owning a cellphone," she said.
Sevilla also urged the teachers to "strictly implement the department order but with proper discussion with the students parents".
"There is a means or ways on how we can properly communicate this order depending on the school as long as we have an agreement with their parent-teacher associations," she said, adding that the DepEd will also focus on the implementation of its anti-bullying policy.
When asked about DepEd's readiness for the opening of classes, Sevilla assured the public that all their 800,000 public school teachers are prepared to receive about 25 million public school students on Monday.
She added that concerns and problems related to the first day of classes may be reported to DepEd's action and command center. (PNA)