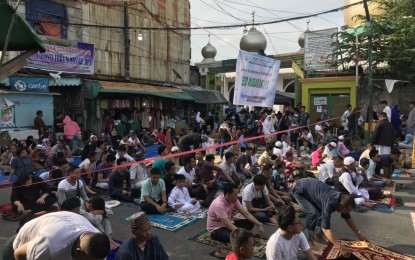 MANILA -- Muslim Filipinos on Wednesday celebrated Eid al-Fitr that marked the end of the holy month of Ramadan.
Muslims gathered inside and outside the Manila Golden Mosque in Quiapo, Manila for solemn prayers during the end of the ninth month of the Islamic calendar.
Nora Sandigan, 36, a native of Maguindanao, said they will return to their respective houses to celebrate after the prayer.
"Pagkatapos magdasal, uuwi na kami at ang bawat pamilya ay magsasalo-salo, magpapasalamat kay Allah (We will go home and every family will have a feast. We will thank Allah)," said Sandigan, an employee of a mall in Quiapo.
During Ramadan, Muslims fast, pray, refrain from sinful activities, and give to the needy.
Aside from the mosque in Manila, Muslims also flocked to the Quirino Grandstand also in Manila, and the Quezon Memorial Circle in Quezon City.
Other faiths extend greetings
Meanwhile, a Catholic prelate greeted Muslim Filipinos celebrating Eid al-Fitr.
"We greet our Muslims brothers and sisters on this end of the Ramadan season. It has been a month of prayer and also we pray that we arrive at the genuine development and reconciliation of peoples of Mindanao, especially now with the start of the Bangsamoro Autonomous Region in Mindanao," Cagayan de Oro Archbishop Antonio Ledesma said in an interview over Radio Veritas.
"We hope that the season of prayer would also bring about what Pope Francis and his counterpart in Abu Dhabi will say, 'We pray for fraternal humanity among all peoples that we are all brothers and sisters under the creator, All Mighty God.' So, this is our prayer and aspiration as we moved on in Mindanao. We work together for peace and development for everyone. Again, my greetings to our Muslim brothers and sisters," said the chairman of the Catholic Bishops' Conference of the Philippines-Episcopal Commission on Mutual Relations.
There are more than 10 million Muslims in the Philippines, a predominantly Catholic country.
On the other hand, the Philippine Council of Evangelical Churches (PCEC) also extended its greetings to the Muslim faithful for the occasion.
"As the Muslim holy month of Ramadan now comes to a close with the celebration of Eid al-Fitr, as followers of Jesus the Prince of Peace, we the Philippine Council of Evangelical Churches are pleased to send greetings of peace and friendship to our Bangsamoro brothers and sisters, and to all Muslims around the world in this most joyous occasion," it said in a statement.
"We at PCEC are privileged to have Bangsamoro friends and partners who serve with similar principles and toward noble ends."
"On this auspicious occasion of Eid al-Fitr, which brings together joyfully families and friends of our Muslim brothers and sisters, it is a great privilege for me to greet you all a peaceful and blissful Eid Mubarak," the PCEC added. (PNA)