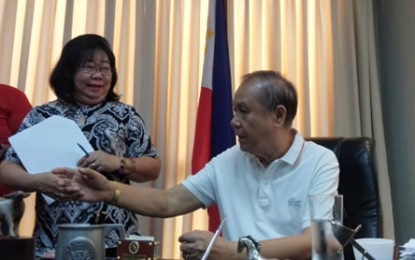 ILOILO CITY -- Iloilo Governor Arthur Defensor Sr. has called for a meeting with all mayors and municipal health officers on June 10 to stem the rise in dengue deaths in the province.
Records showed that from January to June this year, 12 victims succumbed to the disease, compared to only one death in the same period in 2018.
Representatives of the Department of Health 6 (Western Visayas) and the Philippine Red Cross will also be invited to the meeting to be held at the Capitol.
Defensor said the attendance of municipal mayors and municipal health officers of local government units with a high number of dengue cases is "important."
The meeting, he said, will create a "high sense of urgency" among municipalities and will encourage local officials to double their efforts in fighting the disease.
The governor on Thursday discussed with Dr. Patricia Grace Trabado, Provincial Health Office (PHO) chief, the increase in dengue cases and deaths.
A total of 2,441 dengue cases and 12 dengue deaths were recorded from January 1 to June 1 this year, according to PHO records.
Trabado said Concepcion town has the most number of deaths with three; followed by Pototan, Banate, and Bingawan with two each; and Santa Barbara, Pavia, and New Lucena with one each.
The component city of Passi has 225 dengue cases recorded, Pototan (19), Concepcion (173), Ajuy (126), and Santa Barbara (116).
"In 2018, the province recorded 352 cases, with only one death," Trabado said in a press conference.
"This (dengue situation) should not be neglected," Defensor said in the same news conference.
Information on dengue prevention should be broadcast in local radio stations to remind the public of their contribution to the fight against dengue, the governor said.
The PHO continues its "4S Strategy" campaign, which stands for "Search and Destroy" mosquito breeding places,
"Secure Self Protection" from mosquito bites, "Seek Early Consultation" when signs and symptoms of dengue occur, and "Say Yes to Fogging" as a last resort when there is a looming outbreak.
"The public already knows about it, they just need to be constantly reminded," Defensor said.
The help of the community, especially in the "Search and Destroy" strategy, will prevent further dengue cases in the province, Trabado said.
"Although the local officials and our health workers work together, the participation of the community is greatly needed," she said.
Trabado also assured that dengue fast lanes in provincial hospitals are working and serving their purpose.
The admission of dengue patients in Rural Health Units and provincial hospitals also follows the "no balance billing," she added.
The PHO continues its call to parents and guardians to bring for early treatment children suffering from abdominal upset and fever for two or three days. (PNA)