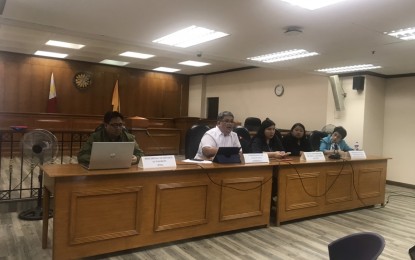 MANILA -- The Random Manual Audit (RMA) Committee of the Commission on Elections (Comelec) on Thursday reported a 99-percent accuracy rate using the Automated Elections System (AES), the highest ever recorded in the last four nationwide automated polls in the country.
According to the committee's preliminary report, the results of the manual audit conducted on 711 out of the 715 clustered precincts from 246 legislative districts has an overall accuracy rate of 99.9953 percent.
"This is just an initial report because in three weeks' time we would finalize our book report...we will come out with common findings and recommendations," Comelec-RMA Committee head, Commissioner Luie Guia told reporters.
The poll body official has attributed the high accuracy rate to the improved process they have adopted.
"We centralized the auditing unlike before that it is done in the field. We can say that this year's audit process is more orderly," Guia said.
The Committee noted that the 2019 RMA is higher than the 99.9747 percent in the 2013 mid-term polls, and the last two presidential polls with 99.9027 percent in 2016; and 99.5980 percent in 2010.
It also revealed that the accuracy rate was at its highest in the senatorial votes with 99.9971 percent; followed by the votes for members of the House of Representatives with 99.9946 percent; and votes for mayor with 99.9941 percent.
As for the regions, the Zamboanga Peninsula and Caraga regions have registered 100 percent accuracy rate.
The accuracy rate is computed out of the variances, or the difference between the votes counted by the voting machines and the manual count.
On the other hand, other members of the committee are convinced that the vote counting machines (VCMs) that were utilized in the recently-concluded polls are accurate based on the audit they conducted.
"One issue that was addressed is the voter receipt allegedly showing different results. We didn't see any such case among the 711 ballot boxes that were audited," according to Legal Network for Truthful Elections (Lente) executive director Rona Caritos.
"What we observed during the RMA process, at least at the precinct level, we can say that it showed just minor variances noted but the accuracy rate mentioned is already high," said Tomasa Lipana of the Philippine Institute of Certified Public Accountants.
Section 29 of the Poll Automation Law provides that "there shall be a random manual audit in one precinct per congressional district randomly chosen by the Commission".
The 2019 RMA, which was held at the Diamond hotel in Manila, started on May 15 and ended on Wednesday.
The RMA is a manual examination of the ballots to validate the count of the VCMs. (PNA)