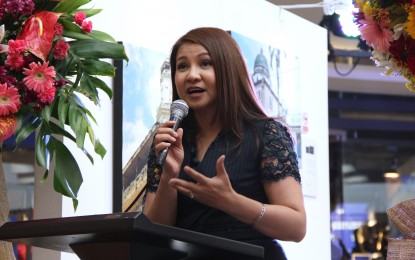 MANILA -- After a few visits with the presidential delegation in Marawi City, former journalist Mylah Reyes Roque brought her professional camera with her and braved grounds that saw violence and destruction.
"It is a record of what Marawi looked before the government completes the rebuilding of the city," Roque said, adding that some of the old infrastructures destroyed by the firefight between terrorists and government troops are going to look different after the planned refurbishments.
Marawi City Mayor Majul Gandamra, who flew from his city to attend the opening of Roque's photo exhibit at SM Megamall in Mandaluyong City, lauded the gesture and thanked the organizers for helping him bring the perspective to other people away from the ground zero.
"This installation will give other people a sneak into what Marawi City looks like after the war. It helps send the message of how massive the damage was and that it is clear now. My people are already into the moving on and starting again phase but we still need the other Filipinos to be supportive as we stand once more," Gandamra said.
Mall-goers can now revisit the tragic backstory of the Maranaos at SM's Picturing Marawi Photo Exhibit featuring the heart-tugging photos of the Marawi siege aftermath immortalized by Roque from June 6 to August 31 in select SM malls.
"The exhibit memorializes the tragedy in Marawi with the aim to engage mall-goers and help them have a greater understanding of the conflict," said Jonjon San Agustin, SM Supermalls senior vice president for marketing.
Picturing Marawi narrates the aftermath of human conflict through images of buildings, homes, and mosques that are deserted by the war but nevertheless speak of the community that used to make it alive. These are stories of a siege fought in close quarters.
Catch the photo exhibit in the following SM malls: Megamall (June 6 to June 11), Southmall (June 24 to 29), Sucat (July 22 to 28), Rosario (August 5 to 11), and Telabastagan, Pampanga (August 25 to 31). This endeavor is in partnership with the National Museum.
The Marawi siege was an armed conflict that took place in Marawi, Lanao del Sur -- a city filled with pulsating energy that was silenced by war. The battle started on the 23rd of May 2017 and lasted for five months, leaving the city in ruins and claiming the lives of many Filipinos. (PNA)