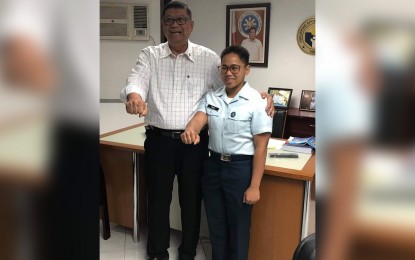 MANILA -- Philippine Sports Commission (PSC) chairman William 'Butch' Ramirez on Thursday reiterated the government's commitment to support weightlifter Hidilyn Diaz's quest for the country's first Olympic gold in the 2020 Tokyo Olympic Games.
This, after Ramirez met Diaz at the PSC's Philsports Complex offices to discuss issues that may have prompted with the Rio Olympic Games silver medalist to post her plea for help on social media.
"The government will continue to support her," Ramirez said as quoted in a press release.
Ramirez said the PSC board has approved two more requests for assistance to fund the trainings of Diaz in China.
"We have pledged our support before, and we will continue to do so because we are focused on that Olympic gold as much as Hidilyn is," Ramirez said.
For her part, Diaz promised "to never quit" on her Olympic quest.
"Let's journey together towards that gold," Ramirez told Diaz, who was accompanied by Armed Forces of the Philippines (AFP) Special Services chief, Col. Taharudin Ampatuan.
Ramirez was with PSC commissioner Charles Maxey when he met Diaz.
Ramirez and Diaz agreed to continue ironing out some more details of her upcoming trainings and preparation requirements.
In 2016, Diaz became the first Filipina to win an Olympic silver medal in Rio de Janeiro Olympic Games.
The Philippines has so far collected three Olympic silver medals, including two courtesy of boxers Antony Villanueva in 1964 in Tokyo and Mansueto 'Onyok' Velasco in 1996 in Atlanta.
The country has also seven Olympic medals on its pocket but has yet to win gold since it joined the world's most prestigious sports meet in 1924 in Paris. (PNA)