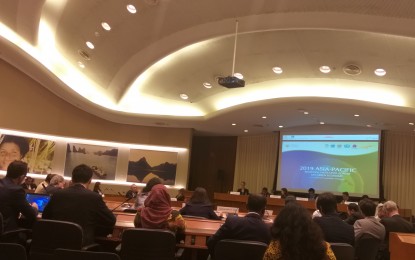 BANGKOK -- The 2019 Asia-Pacific Regional Ministerial Conference on Green Economy kicked off here on Monday, bringing green economy solutions closer to the regional context.
The three-day regional high-level forum from June 10-12 aims to raise awareness in the Asia Pacific by showcasing the impact of successful green economy solutions crafted and tested by countries in the region.
The forum also seeks to deepen the impact of the transition of countries to a green economy through scaling up and replication of the best practices at the regional level.
The United Nations (UN) defines a green economy as low carbon, resource efficient and socially inclusive. It states that in a green economy, growth in employment and income are driven by public and private investment into such economic activities, infrastructure and assets that allow reduced carbon emissions and pollution, enhanced energy and resource efficiency, and prevention of the loss of biodiversity and ecosystem services.
The forum would create a knowledge-sharing setting to support participants in improving their understanding of the trends towards advancing the green economy agenda in the Asia Pacific region.
During the forum, three thematic focus areas will be discussed -- promoting innovative green investment through public-private partnerships (PPP); improving regulatory and policy frameworks for de-risking green investment; and advancing national-level capacity development for holistic green economy action.
The event gathers government representatives from around 20 countries in the region, as well as representatives of the UN agencies, relevant international financial institutions, as well as private sector and civil society representatives, will discuss ways to promote green investment through PPP, to improve regulatory frameworks, how to de-risk those investments, and advance holistic green economy.
In the Philippines, steps have been taken to transition to a green economy with the passage of vital laws, including the Renewable Energy Act of 2008.
The law aims to accelerate the exploration and development of renewable energy resources, institutionalize national and local capabilities in the use of renewable energy systems, and promote its efficient and cost-effective commercial application by providing fiscal and non-fiscal incentives.
In April 2016, Republic Act 10771 or the Green Jobs Act was signed into law, which promotes the creation of green jobs and provides incentives to firms that generate green jobs.
The forum's concept note, provided to participants, states that a green economy offers vast opportunities in eradicating poverty as well as sustaining economic growth. It "enhances social inclusion, improves human welfare, creates opportunities for employment and decent work for all, while maintaining the healthy functioning of the Earth's ecosystems". (PNA)