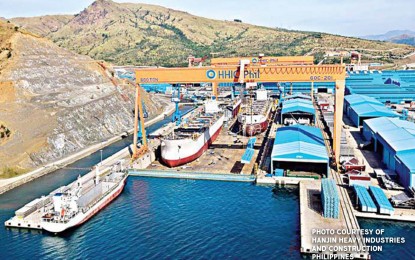 MANILA -- Should the government acquire control of cash-strapped Hanjin Heavy Industries and Construction (HHIC-Phil), the next option is to get interested parties or shipbuilders to operate its shipyard in Subic Bay, Zambales.
This was emphasized by Department of National Defense (DND) Secretary Delfin Lorenzana when asked about updates on the government plans on the South Korean shipbuilder Monday.
In the same interview, he said that foreign or local investors are still to make any formal offer or bid regarding the HHIC-Phil's shipbuilding operations.
"We are still yet to see any formal offer, so (the) Hanjin (matter) is now being handled by the Department of Finance (DOF) and the SBMA (Subic Bay Metropolitan Authority) as they are talking with local banks where the company has outstanding loans with. DOF is looking on how to pay these banks so that we can get Hanjin and then after we take over Hanjin, then we can now select who among (the) interested parties (are) best suited to our purpose and run it as a shipyard to make money," Lorenzana said in a mixture of English and Filipino.
In the meantime, the DND chief said the government could use Hanjin's facilities to house and repair large Philippine Navy ships.
But Lorenzana said prospective investors for the Hanjin facility should really come from the shipbuilding sector as it will take a lot of money and foreign contacts to get orders abroad to make its operations profitable.
HHIC-Phil earlier revealed that it has a total of USD1.3 billion outstanding loans -- USD400 million from Philippine banks and USD900 million from South Korean lenders.
According to SBMA, HHIC-Phil filed on January 8 a petition at the Regional Trial Court in Olongapo City "to initiate voluntary rehabilitation under Republic Act 10142, otherwise known as An Act Providing for the Rehabilitation or Liquidation of Financially Distressed Enterprises and Individuals".
With this, the shipbuilder has sought help from the government to find investors that can take over the operation of its shipyard in Subic, as well as to help its employees, who have taken the brunt of the company's financial woes.
In December 2018, the company laid off more than 7,000 workers.
"Hanjin shipyard (has) not actually filed for bankruptcy, it is just asking for rehabilitation, because the problem is cash flow, it is still building some ships here in the Philippines but it needs money to keep operating (on a) day-to-day basis so its still being in the works, however (the) Senate is already set aside some money for the eventuality," the DND chief earlier said. (PNA)