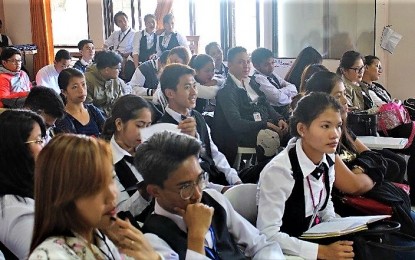 BAGUIO CITY -- The Technical Education and Skills and Development Authority (TESDA), in partnership with the Philippine Drug Enforcement Agency (PDEA), here conducted on Tuesday an antidrug orientation for government scholars to ensure the government is providing holistic training.
"In line with the thrust of the Duterte administration to rid the country of illegal drugs, an orientation on drug awareness was held at the Baguio City School of Arts and Trades (BCSAT) to inform the scholars and employees about the ill effect of [using] drugs," said Vilma Tolarba, BCSAT information officer.
"There were 130 trainees or TESDA scholars and 12 employees who listened to the lecture," she said.
Rosel Sarmiento, PDEA-Cordillera Administrative Region (PDEA-CAR) information officer, said the orientation includes the use, possession, transport, and sale of illegal drugs, Republic Act 9165 or the Comprehensive Anti-Dangerous Drugs Law of 2002, the types of illegal drugs and the ill effects on the body of using illegal drugs.
Toralba said Sarmiento's lecture also defined the acts provided in the law which constitutes punishable violations.
"In relation to the government's campaign against drugs, BCSAT showed its support to the campaign by facilitating drugs awareness among its stakeholders," said Arlene Cadalig, school administrator of BCSAT.
BCSAT is the only TESDA-administered technical-vocational (tech-voc) school in the Cordillera offering scholarships for tourism-related skills like Bread and Pastry Production NC II, Bartending NC II, Food and Beverages Services NC II, Housekeeping NC II, Cookery NC II, and Barista NC II.
Aside from intelligence, eradication, and buy-bust operations, the PDEA-Cordillera also holds orientations for different sectors and institutions as a way to inform and educate the public.
PDEA-CAR Regional Director Edgar Apalla during the Regional Law Enforcement Coordinating Council meeting on June 7 said a total of 548 activities related to demand reduction from January to May this year were conducted. (PNA)